The Four Seasons "The Genuine Imitation Life Gazette"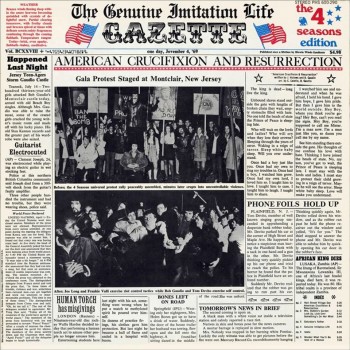 The Genuine Imitation Life Gazette is as good as (if not better) than many of the more vaunted psych pop creations.  The songwriting is dense, adventurous and very strong this time around.  Like all great legends, Frankie Valli comes through in a big way, delivering some of the best vocal performances of his career.  The harmony singing is breathtaking, never straying too far from what made the Four Season's such a great mid 60s vocal group (they were often called the Beach Boys of the East!).  Three songs exceed the 6 minute mark and are epic productions but the shorter psych pop numbers are just as good.  The Genuine Imitation Life Gazette is no cash-in effort or group attempt at jumping on the psychedelic bandwagon, it's the real deal.  Backward cymbals, phasing and other means of studio experimentation simply add to the group's strong pop sensibility.  Great hooks, quirky ideas and powerful performances keep this LP grounded – things never sound forced, bloated or too psychedelic. Great pop songs like "Something's On Her Mind," "Mrs. Stately's Garden," "Saturday's Father," and the extended title track expand on the group's mid 60s sound.
Consistent and original, The Genuine Imitation Life Gazette is a terrific LP that always seems to slip thru the cracks. It goes without saying that this is the best LP the Four Seasons ever released.   This is also the achievement that Frankie Valli is most proud of;  in 2002, Goldmine interviewed Frankie Valli who reflected on the album's lack of success: "We talked about some of the social problems on that album. Nobody was expecting anything like that from us. The record company wasn't very pleased with the fact that we turned in an album like that. They didn't do very much work on it. It certainly is an album that I've always been very proud of. I wouldn't call the album exactly psychedelic, [although] it did have kind of a flow or a taste of that. "Wall Street Village Day" was an incredible song. "Soul Of A Woman" was another really great song, and the title song, "Genuine Imitation Life," is also great. Of all the bands out there, we have touched on almost every kind of music that there is. Everything from "Sherry" to the album Genuine Imitation Life Gazette to touches of jazz with "Swearin' To God" to "My Eyes Adored You" to "Can't Take My Eyes Off Of You" to "Who Loves You." I don't know many acts out there who have done it as successfully as we have done it."  Four Season main songwriter Bob Gaudio also had some thoughts on the record: "One of the disappointments of our career for me on a creative level was the Genuine Imitation Life Gazette album. It was just something that I had to do at that time. It got wonderful reviews, but obviously it was not an acceptable piece from us. Everybody was expecting Top 40."
Long time fans usually write Gazette off because it's a departure from the group's signature sound.  Dealer's tend to overlook this classic because it's an LP by a group who was never considered to be hip, making Gazette a cheap, easy to find score.  Prepare to be surprised.
Audio clip: Adobe Flash Player (version 9 or above) is required to play this audio clip. Download the latest version here. You also need to have JavaScript enabled in your browser.
"Saturday's Father"

Original Vinyl | 1969 | Phillips | search ebay ]
Also Recommended