The Gosdin Brothers "Sounds of Goodbye"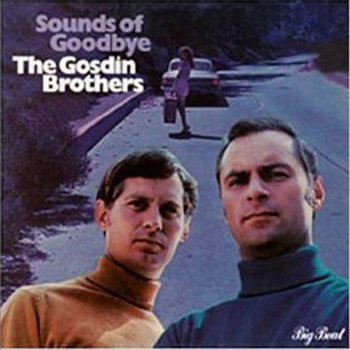 The Gosdins were no strangers to country-rock in 1968. The prior year the two contributed harmony vocals and guitar to Gene Clark's exquisite masterpiece, Gene Clark and the Gosdin Brothers. They had also released some great singles that were caught between the earlier Byrdsian folk-rock sound and a new, emerging country-rock scene (check out There Must Be Someone or I'll Live Today).
Sounds of Goodbye, released in 1968, would be the duo's only album together. It was a groundbreaking effort that somehow slipped through the cracks. The originals, For Us To Find and The Victim are outstanding cynical country rockers that stand out for Vern Gosdin's crystal clear vocals with an added Bakersfield twang. On The Victim, the acoustics sparkle and glitter beautifully with a slight psychedelic production that adds to the Gosdin's unique vision. Sounds of Goodbye and She's Gone are very wistful and sad but good nonetheless, recalling Gene Clark's material from around the same time.
It's an album that should be filed alongside Swampwater, Gene Clark's 1st solo album, Roots by the Everly Brothers, and the late 60's Dillards material. Even the covers on this album are done with taste and care, Let It Be Me (The Everly Brothers hit) particulary stands out in this vein. The cd reissue on Big Beat adds 13 singles and outtakes to the original album, most of which are essential. The above mentioned I'll Live Today's intro recycle's Gene Clarks I'll Feel A Whole Lot Better but eventually evolves into a folk-rock masterpiece. Hang On, one of their hit singles, even finds the Gosdin's successfully experimenting with a mellotron – in a country rock song!!!
Then we have There Must Be Someone I Can Turn To, one of the first country rock standards and a good enough reason to buy this album. The Byrd's did a nice version of this song on their Untitled album, but nothing beats the original. The only strange element to the album is the sleeve, in which the Gosdin brothers look like a couple of squares in turtlenecks.
Audio clip: Adobe Flash Player (version 9 or above) is required to play this audio clip. Download the latest version here. You also need to have JavaScript enabled in your browser.
"The Victim"
[ Buy from Amazon
]
Also Recommended