The Groundhogs "Split"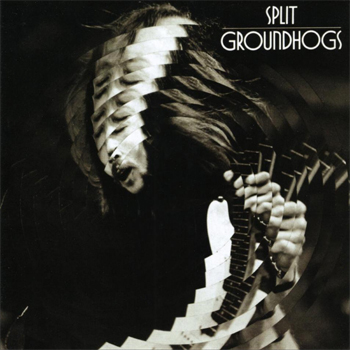 Here's one I can't believe I haven't heard before. For a record with such a commanding presence, excellent would-be classic tunes, and an ahead of its time Nirvanesque sound it's a shock I can find too scant mention of it around these parts or elsewhere. In reality, it's my shame I haven't run across the Groundhogs before now, as their legendary run through most of the 60s' British blues scene and subsequent forays in hard jam-rock are not to be overlooked.
Not at all "blues" and too cool for the prog tag, Split is more like a psych-tinged  insanity-fueled classic rock opus. Side A, a continuing amalgam of anthemic classic rock jams, "Split Parts 1-4" (the lyrics apparently inspired by a panic attack), is the kind of amped-up music it can be dangerous to drive to; "Part 1" is so juiced it makes me want to join a frantic crime spree. "Part 2" may be the catchiest song with its driving wah-guitar lead and chop chords. Tony McPhee is clearly running the show, his guitar playing so effortless, dynamic, reeking of virtuosity; this is as in the zone as it gets. Not to diminish the efforts of Peter Cruikshank on guitar and bass and Ken Pustelnik wildly beating away, this band can fucking play.
"Cherry Red" may be the sickest, meanest classic I've never heard. How this masterpiece has evaded classic rock radio, movie soundtracks, and my ears altogether I'll never understand. (Instead of the endless barrage of Black Keys and Jack Whites on the airwaves, music supervisors would do well to score something like this, both for the better of their budgets and our sanities.) On the self-titled "Groundhog," McPhee proves he can swat the devil blues out of his electrified acoustic as fine as Robert Johnson, providing the album's only real taste of blues.
Grab this mean, mighty bastard as soon as you can find it.
mp3: Split (Part One)
mp3: Cherry Red

Original | 1971 | Liberty | search ebay ]


Reissue | 2003 | Caroline | buy here ]


Spotify link | listen ]
Also Recommended