The Guess Who? "It's Time"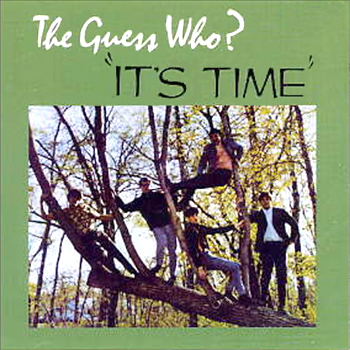 There is no doubt that It's Time was the best album from the early Guess Who. This 1966 LP was the first Guess Who record to feature the wild Burton Cummings. It's Time was the third Guess Who album in 3 years, featuring mostly original/self-penned group compositions.
The album featured a nice balance of personalities: the original band leader Chad Allen, who favored a moody beat style tempered by a rough, hard edge Rolling Stone's influenced Burton Cummings (future band leader along with Randy Bachman and vocalist on American Woman). Special praise must go to Randy Bachman as well: he conjures a very dirty, fuzzy guitar tone throughout the record. Every song on this album is well-crafted and one can hear the clear influence of the Who, beat era Kinks, Rolling Stones, Zombies, and Byrds. Songs like Clock On The Wall, Believe Me and Don't Act So Bad are a long way from Guess Who radio classics These Eyes, Laughing, No Time, and Share The Land. Clock On The Wall is the killer undisputed classic on this record. At the time, Neil Young made special note of this single for it's dramatic Cummings' vocals and heavily reverbed guitars. Believe Me is also an excellent piece of Kink's style garage grunge with some interesting keyboard work. Cummings' vocals come thru again with the Animals influenced Seven Long Years and the raunchy Pretty Things-like Don't Act So Bad. Chad Allen really shines on the acoustic beat downer Guess I'll Find A Place while the Bachman penned And She's Mine has an appealing rural folk-rock Byrd's feel. And while the album cannot hide it's influences, It's Time really is a classic piece of Canadian rock music.
This album holds as one of the best ever garage albums because vocally and instrumentally the Guess Who were way ahead of the pack. They released plenty of excellent garage/beat era 45's as well, track done excellent singles such as It's My Pride or If You Don't Want Me for more proof of their early raw sound. This would be the last Guess Who album featuring Chad Allan. After this, Allan would go on to form Brave Belt with Randy Bachman, who would release two albums in the early 70's. Brave Belt's debut record is a fantastic mix of country, folk, pop rock, and psychedelia. Fans of country-rock or of this website are strongly urged to track this record down.
Audio clip: Adobe Flash Player (version 9 or above) is required to play this audio clip. Download the latest version here. You also need to have JavaScript enabled in your browser.
"Clock On The Wall"
[ Buy from Amazon
| Search eBay ]
Also Recommended