The Holy Modal Rounders (self-titled)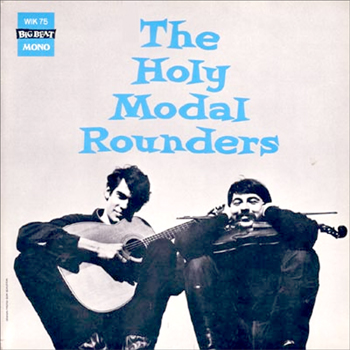 A damn fine record! For years, I've been trying to get my ears around The Moray Eels Eat The Holy Modal Rounders
with limited success. It's a totally weirded out record that kicks off with the If You Want To Be A Bird single famously featured on the Easy Rider soundtrack. The problem I had understanding Moray Eels was a lack of context – now that I've got my hands on this joyous and addictive little gem, I'm more anxious than ever to dive in deeper with the Rounders catalogue.
Bound To Lose: Documentary
Recently, I had the (spur-of-the-moment) opportunity to catch Peter Stampfel introduce a showing of the new documentary film chronicling his band, entitled Bound To Lose. Pete is a real eccentric with an amazing speaking and singing voice, tuneful and squawky like no other. The documentary was quite good and renewed my interest in the Rounders. Instead of uncovering many of the details surrounding the original Holy Modal Rounder recordings (1 & 2, Indian War Whoop, Moray Eels), the doc relied on footage and stories concerning the modern day Rounders. It's hard to blame the filmmakers for this angle because they are such interesting characters and prolific artists. I highly recommend a rental for fans of the band or those looking for a pleasant introduction to this fascinating group.
You've got to start at the beginning, though. Their debut album, way ahead of its time, is one of the most fun records I've heard in a while and would spawn the genre of freak folk. The Rounders were heavy into the folk revival scene of the early 60s in NYC's Greenwich Village and also heavy into drugs. Interestingly, their reworking of Hesitation Blues on this record featured the first recorded use of the term "psychedelic." The tunes performed here on guitar and fiddle, or guitar and banjo, are essentially folk standards with new and often satirical lyrics. Stampfel confesses to this writing technique in the liners: "hear song, forget song, try to remember song while adding your personal wrinkles, bingo!"
There are traces of the less traditional and electric route the Rounders were headed down on originals like their "hit" song Euphoria and the catchy pop oddity, Mr. Spaceman. Most important to note, of course, are the voices. Sure to turn off casual listeners, but remarkably unique and strangely perfect. Something about their alien brand of harmony is indefinably great, and in brief little moments, truly beautiful. This record is a wonderful ride and an essential slice of music history.
Audio clip: Adobe Flash Player (version 9 or above) is required to play this audio clip. Download the latest version here. You also need to have JavaScript enabled in your browser.
"Euphoria"
Note: The debut record is packaged as a twofer including their 2nd record, pretty much every bit the equal of the first. Excellent deal ($9 digital download).

CD Reissue | 1999 | Fantasy | buy from amazon
]


Original Vinyl | 1964 | Prestige | search ebay ]
Also Recommended