The Honeycombs "All Systems Go!"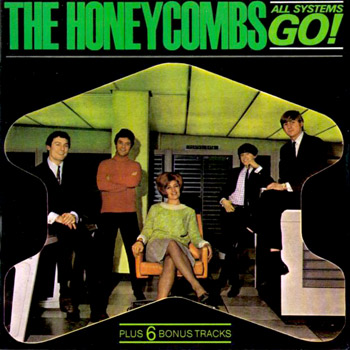 Before the dust settled on their million-selling debut single "Have I the Right?" produced by Joe Meek, the Honeycombs released their self-titled debut LP on Pye records in September of 1964.
Dismissed by some as a novelty act for having a female drummer (bandleader Honey Lantree), they cut consistently good material at Meek's Holloway Road home studio throughout 1965 and released their finest effort All Systems – Go! on Pye in December of that year.
Mostly a mix of freakbeat and the bubblegum-pop of their singles, All Systems- Go! also features some great experimenting from a band trying to maintain their success. It's these genre hopping tracks that make this a solid record, but also account for some of the lesser numbers.
There are a few throwaways, like the light R&B fare of "Ooee Train" (which starts strong but dies at the verse) and "Don't Love Her No More" (which has a great guitar sound but a terrible chorus). The version of "I Can't Stop" featured here is not as catchy as the single, but the Honey-sung "There's Something I've Got To Tell You Baby" has been improved from the Glenda Collins version. This time it's slowed down and more sincere, replacing the strings with a mellow organ and classical guitar musings. "Our Day Will Come" expands on the exotica vibe of "Totem Pole" and displays Honey Lantree's strong prowess as a drummer. The rhythm section is especially tight on this album and really pops out.
"If You Should" could be mistaken for an early Brian Wilson production, and is easily among the best here. "Nobody But Me" stands out with its persistent guitar line and another solid performance from Honey, but the title track is the most single-worthy, with its anthemic full band chant of "ALL…SYSTEMS…GO!!". Most of the songs here were written by Howard & Blaikley, with the exception of the Ray Davies penned "Emptiness", which was never recorded by The Kinks. It's very Kinks-like and bears a striking similarity to "Something Better Beginning" which had also been recorded by the Honeycombs earlier in the year. The disc closes with the Roy Orbison sounding "My Prayer" that works strangely well and highlights the uniqueness of Denis D'Ell's voice.  Probably the most grandiose recording here, it shows the Honeycombs as far from their core sound as they ever got, but also comes across as the most confident.
Forty six years on and All Systems Go is still an interesting and rewarding listen. It's full of unique sounds and rhythms and is definitely one of the best of the few LP's Joe Meek recorded.
Audio clip: Adobe Flash Player (version 9 or above) is required to play this audio clip. Download the latest version here. You also need to have JavaScript enabled in your browser.
"All Systems Go"

CD Reissue | 2fer | buy here ]


Original LP |  1965 | Pye | search ebay ]
Also Recommended