The Idle Race "Birthday Party"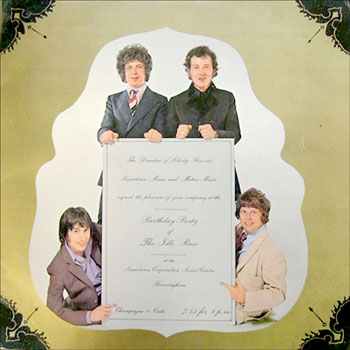 The Idle Race's "Birthday Party" is one of the great, neglected English pop albums. This was Jeff Lynne's first album from 1968, although he had released some singles in earlier beat era bands. Even at this stage of the game, his refreshing melodies and lyrics were fully developed and realized and as a songsmith he was superb.
The Birthday Party is an unusual British pop album loaded with strange sound effects, buzzing mellotrons, tinkling harpsichords, great harmonies and the like. Lucky Man, I Like My Toys, and Pie In The Sky are joyously trippy, similar in tone to the Blossom Toes great first album, but maybe even better.
The album strongly recalls early Pink Floyd, late 60's Kinks (just listen to Don't Put Your Boys In The Army) and the early Move in the best possible way while keeping a strong flavor of originality. Even the ballads, like the heavily phased On With The Show are great listening, speaking of English life and its trials and tribulations. And then there is Morning Sunshine, one of the most beautiful English psychedelic pop ballads ever.
Anyone interested in the evolution of ELO or even fans of the Move, Kinks or Beatles should seriously check this one out!!
Worth the Price of Admission
Also Recommended