The Ikon Records Story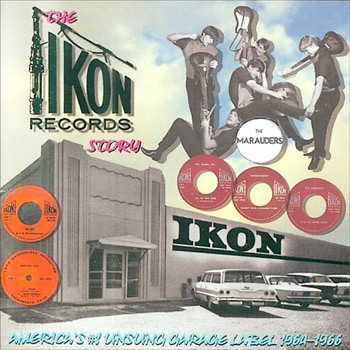 Several years back the good folks at Frantic Records treated us to The Ikon Records Story.  This vinyl sampler of the fabled label was followed by a grand, 2 cd set (60 tracks!), which included plenty of bonus cuts, lost 45s and unreleased tracks.  Many of these tracks were recorded during the prime garage/teenbeat era (1964-1966) at Ikon Studios, which was located in Sacramento, California.
There are no fuzz (Eirik Wangberg's excellent "Every Night I Dream A Little" is a notable expection – it's a twisted gem of a record) or freaky garage stompers a la Back From The Grave.  Be that as it may, The Ikon Records Story is loaded with great slices of mid 60's rock n roll, surf, instrumental numbers, folk-rock, garage punk, spy-themed novelty bits and Brit influenced pop.  It's nearly the equal of Back From The Grave but focuses on a wider array of vintage teenbeat sounds: key cuts being Madd, Inc.'s powerful, rebel rocker "I'll Be The One" (a near classic), the Knightsmen's impressive, Rolling Stones-like "Daddy Was A Rolling Stone," the Mergers' fine British Invasion influenced pop rocker "Love, You Funny Thing," and The Shondells' downbeat jangler "It's True."
There's really too many highlights here to list – The Ikon Records Story is a terrific collection of adolescent, fresh-faced sounds from the days when rock music was new, raw and vital.  Most of the original 45's are so rare that it would cost thousands of dollars to piece this collection together.   If you're into classic mid 60's sounds you should really own this superb compilation of regional rock n roll.
Audio clip: Adobe Flash Player (version 9 or above) is required to play this audio clip. Download the latest version here. You also need to have JavaScript enabled in your browser.
Sel-Sync – The Fire Is Gone

CD Issue | 2006 | Crypt Records | search ebay ]
Also Recommended