The JuJus "You Treat Me Bad 1965-1967"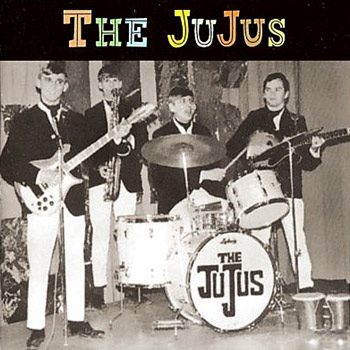 Of all the regional garage bands that were never given the opportunity to record an album, the JuJus were amongst the very best.  They formed in 1964 and played a mixture of frat rock, British Invasion influenced teenbeat and classic garage rock sounds all around the local clubs of Grand Rapids.  Their early tracks can be heard on the above 2009 Cicadelic reissue, it's an excellent sampling of the group's career.   The early tracks have saxophones, sappy lyrics and muddy sound but are good for what they are – great frat rock and teenbeat. 
In 1965 the group would cut vocalist/guitarist Ray Hummel's "You Treat Me Bad/Hey Little Girl" for Fenton.  Fenton was a local label run by electronic/production genuis  Dave Kalmbach and business partner Bruce Smith.  Fenton would cut many, many garage classics but You Treat Me Bad stands out as one of the label's best.  The vocals are snotty and the tempo is driving; You Treat Me Bad would eventually hit number 2 on local radio.   The JuJus second 45 was cut in Kingtones guitarist Phil Robert Jr.'s basement studio and issued in a picture sleeve on the United label in 1966.  Both sides of "I'm Really Sorry/Do You Understand Me" are superb.  Do You Understand Me has guitar lines straight out of the Stones' Last Time and is achored down by a nice fuzz solo.  Both recordings sound very crude and primitive but hold a special place in many garage fans' hearts – this was some of the best rock n roll being pumped out of Michigan at the time.
The JuJus lineup would change quite a bit from 1964 to 1967.  Eventually the group would break up after losing core band members Ray Hummel, drummer Bill Gorski and saxophone player Max Colley.  But before throwing in the towel they would cut a few more songs in 1967 for a possible single release.  The JuJus were constantly evolving and by this time they had grown into a more experimental unit.  They would record two songs that year:  Sometime Or Another and If You Really Love Me.  The latter was a nice slice of power pop with pretty vocal harmonies and a quality guitar oriented arrangement.  Sometime Or Another, a song that was good enough for an A-side release, was the JuJus at their most psychedelic and adventurous.  This track could compete with any "big group's" best single and was notable for its distorted vocals, blazing fuzz guitar solo and introspective lyrics.  It sounded like a hit but was probably a bit downbeat and too experimental for top 40 radio. 
The above reissue is one of the best garage rock offerings I've heard in quite some time.  Cicadelic gives you the classic singles, a good 1965 Ray Hummel Fenton 45 ( in which he is backed by the JuJus) and a slew of quality outtakes.  There are no lame covers and the sound quality is excellent.  The JuJus were a great group whose music still burns brightly in the memories of Michigan locals.  This is mandatory listening for anyone interested in pure rock n roll.
Audio clip: Adobe Flash Player (version 9 or above) is required to play this audio clip. Download the latest version here. You also need to have JavaScript enabled in your browser.
"I'm Really Sorry"

CD Reissue | 2009 | Cicadelic | buy from cicadelic ]
Also Recommended