The Kings Verses "The Kings Verses"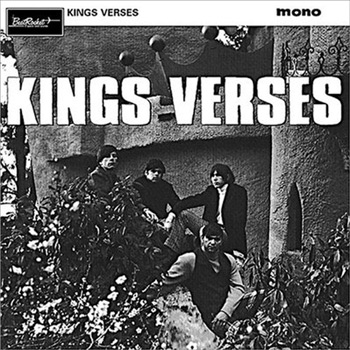 In 1966, Fresno CA band the Kings Verses went into the studio to cut the 10 tracks that make up the bulk of this special LP release.  What could have been a fine mid 60s garage LP ended up in the can for what seemed like an eternity.  The good folks at BeatRocket took it upon themselves to release these excellent recordings on vinyl/MP3.  The record label was also kind enough to include two quality live cuts from around the same time – all in good sound. This live material was culled from the band's first place performance at the 1966 KYNO Battle of the Bands. Legal complications with the musicians' union and LA's Hullabaloo Club would ultimately seal this legendary group's fate.
During their heyday the Kings Verses played LA's Griffith and also appeared at the Elysian Park Love-Ins. Their sound alternated between crunching garage punk and sullen folk-rock (think early Love).  For garage rock fanatics this is a major find, along the lines of another mysterious CA group that never released any official singles or albums in their day but produced a slew of unreleased recordings, the Public Nuisance.
To my knowledge, all the tracks on the Kings Verses LP are original compositions that come from the pen of guitarist Jim Baker.   Furious punkers "The Ballad of Lad Polo" and "A Million Faces" caught my attention first but album opening raver "Light" is just as good.  "The Ballad of Lad Polo" is a near classic track that proves this group was more than just a myth – the Kings Verses catch fire here, unleashing a blazing fast paced rocker with lots of great static-like fuzz.  Other good cuts are the fuzzy instro "Mind Rewind", the menacing garage ballad "She Belonged To Me" and a trio of beguiling folk-rockers, "It's Not Right", "E. Sok Baxter" and "You Can Be."
Had this been released on vinyl back in 1966 it would have been up there with the very best garage rock albums.
Audio clip: Adobe Flash Player (version 9 or above) is required to play this audio clip. Download the latest version here. You also need to have JavaScript enabled in your browser.
"It's Not Right"

Compilation | 1998 | BeatRocket | buy from sundazed ]


Digital Download | buy from reverbnation ]
Also Recommended