The Kinks "Kinks-Size" & "Kinkdom"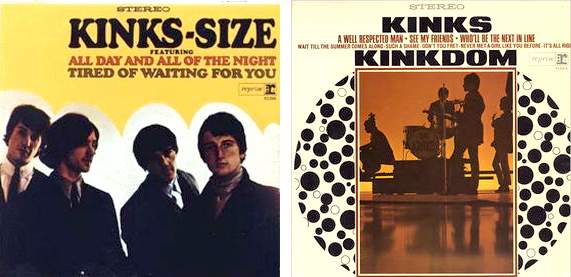 So much is made about the Kinks' "Golden Age" from the years 1967-1972. Don't get me wrong, I'm guilty of loving these records all day and night, but when the Kinksdust settles, you find that the years 1964-1966 were an especially powerful Kinkstime too. The newly released Picture Book box set only does a cursory job of representing this material.
"Kinks-Size" and "Kinkdom" were not official album releases, but like the Great Lost Album they were American label releases containing excellent material and superior track line-ups.
Kinks-Size was released in March of 1965 by Reprise in order to capitalize on the big albumless hits, Tired of Waiting For You and All Day And All Of The Night. Louie Louie, I Gotta Go Now, Things Are Getting Better, and I've Got That Feeling came from the British EP "Kinksize Session" (clearly an inspiration for this album's title), while I'm A Lover Not A Fighter and I Gotta Move were originally on the All Day EP. I'm A Lover and Revenge were shelved cuts from the "Kinks" debut. Come On Now was a track from their upcoming 2nd official album "Kinda Kinks."
Kinkdom was released in November of 1965, three months after Kinda Kinks. This release comprised tracks from the British EP "Kwyet Kinks" (A Well Respected Man, Such A Shame, Wait Till The Summer Comes Along, Don't You Fret) as well as some of the best unreleased (in the US) British singles (Never Met A Girl Like You Before, See My Friends, Who'll Be The Next In Line, It's Alright). Naggin' Woman was an unreleased cut from the UK edition of "Kinda Kinks," and Louie Louie is repeated from "Kinks-Size," an inexplicable move by Reprise.
These albums best represent the scorching sound of the early Kinks, appropriately ravaged by Shel Talmy's untrained production style with songwriting strong enough to bolster the genius of Ray Davies. Don't waste your money on incomplete box sets. Nothing the Kinks recorded should be considered extraneous.
Kinks-Size
Audio clip: Adobe Flash Player (version 9 or above) is required to play this audio clip. Download the latest version here. You also need to have JavaScript enabled in your browser.
"I've Got That Feeling"
Kinkdom
Audio clip: Adobe Flash Player (version 9 or above) is required to play this audio clip. Download the latest version here. You also need to have JavaScript enabled in your browser.
"Wait Till The Summer Comes Along"

Orig Vinyl | Kinks-Size | 1965 | Reprise | ebay search ]


Orig Vinyl | Kinkdom | 1965 | Reprise | ebay search ]
Also Recommended