The Kinks "Something Else"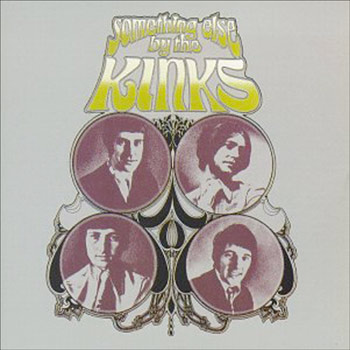 My favorite Kinks record. This one is special. On Something Else, not only do we get the famous and beautiful Waterloo Sunset, but a fine roster of prime Kink gems.
David Watts and Situation Vacant provide the grit and rock, while three slower but wonderful numbers, Two Sisters (read: Two Davies Brothers), No Return, End of The Season, are magnificent reflective Kinksongs. Three Dave Davies numbers appear on this record and while they don't match the genius of Ray's masterpieces, they still feel right in their place. The remaining tunes half-define the Kinks for me as staunch Brits that refused to Americanize and rebelled by going conservative. You won't hear the Beatles refer to a cigarette as a Harry Rag or writing tunes about their hometown traditions, Afternoon Tea (one of my all time favorites).
This album was released in between two of the most revered 60s Kink albums, Face to Face and VGPS, and in a way it does feel like a transitional record. They're not trying too hard conceptually, just some busy brit rockers kicking out their next decent record. And dammit-all it's another brilliant one! Damn Ray, let me get some of that! Why's he got to write all the best songs? God save the Kinks.
Note: all bonus tracks awesome.
Audio clip: Adobe Flash Player (version 9 or above) is required to play this audio clip. Download the latest version here. You also need to have JavaScript enabled in your browser.
"Afternoon Tea"
[ Buy from Amazon
| Search eBay ]
Also Recommended