The Kinks "The Great Lost Kinks Album"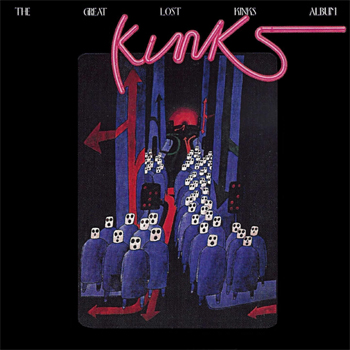 Issued by Reprise in 1973, and not to be confused with several boots bearing the same name, The Great Lost Kinks Album may not be a legitimate release, but it is one of my favorite Kinks albums.  Even though I know it's wrong (Ray Davies knew nothing about it and moved to legally stop production of the record), I can't help but fall for its charms.
Supposedly, the bulk of Great Lost was intended for a 1969 release entitled Four More Respected Gentlemen. The liner notes for the LP are hard to trust, however, since the 'kronikler' spends most of his time deriding the touring behavior of the '73 Kinks and complaining about the songs on Muswell Hillbillies (by my account, a fine record in every regard). Pretty much all of this material (tracks that didn't make the cut for Face to Face, Something Else, and Village Green Preservation Society) is available now as bonus material on the essential 2004 Kinks reissues (mostly on the 3CD VGPS package).
The track order on Great Lost Kinks feels like the real thing, and affords that rare pleasure rabid fans are always hunting down: the unreleased masterpiece. Great Lost is to Kinks fans what Smile bootlegs are to Brian Wilson devotees, maybe not a masterpiece, but it's that extra dip in the Golden Age once you've already exhausted the best of their discography. Considering its release date, this was the first chance anybody got at hearing these buried gems, making Great Lost a considerable prize to collectors. If you do find this record out in the wild, pick it up immediately. The bizarre neon cover may have you believe this is a less than stellar 1980s outing or some mediocre compilation, but it truly sounds like that great, fabled record that never was.
There are no skippable tracks, but for me, Til Death Do Us Part is one of the perfect Kinksongs, a humble, laid-back march that sounds sweetly traditional. There Is No Life Without Love is a sleeper Kinks klassic with its subdued and gorgeous groove. I won't go on. I'll save the rest for that lucky day you find this for yourself. If you need to hear the tracks before then, get working on your Kinks reissues, they're all there somewhere.
Audio clip: Adobe Flash Player (version 9 or above) is required to play this audio clip. Download the latest version here. You also need to have JavaScript enabled in your browser.
"Till Death Do Us Part"
Audio clip: Adobe Flash Player (version 9 or above) is required to play this audio clip. Download the latest version here. You also need to have JavaScript enabled in your browser.
"There's No Life Without Love"

Original Vinyl | 1973 | Reprise | search eBay ]
Also Recommended