The Koala (self-titled)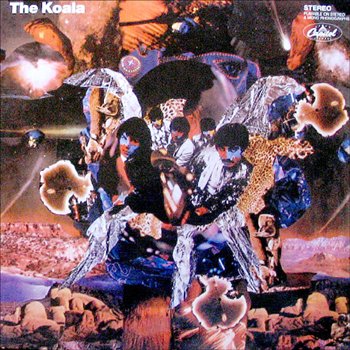 In 1969, the Koala released their only album. They were a New York band who were being hyped/billed as an Australian group. This strange gimmick sealed the mysterious band's fate.
From what I know, the above album is very hard to find making the 2007 cd reissue a breathe of fresh air. While not a garage masterpiece on par with the Remains' only album or the 13th Floor Elevator's debut, the Koala album is damn good. It's a late period garage album that is similar to the Canadian garage band It's All Meat's sole record (which is also great).
The Koala played a sloppy brand of rock full of power chords, out of control fuzz guitar solos and thundering drums. The album is uniformly strong and diverse, showing strong Cream, Rascals, and Who influences. Take a good listen to the mini revolution that is Look At The Way She Comes. This song is the very definition of punk rock: searing guitars, arrogant vocals and titantic drums. It's pitched halfway between You Better Run era Rascals and the Blue Magoo's circa self-titled 1968 album – a true classic with a definitive New York sound! Poppa Duke Tyler hits just as hard, with one huge, mind melting fuzz guitar solo and limey vocals. Other songs like Elizabeth and Nothings Changed play it soft and slow while still capturing an attractive sound. This is another lost treasure from the 60's and an absolute must for garage heads.
Audio clip: Adobe Flash Player (version 9 or above) is required to play this audio clip. Download the latest version here. You also need to have JavaScript enabled in your browser.
"Look At The Way She Comes"
[ Buy from Amazon
]
Also Recommended