The Liverbirds "Star Club Show 4"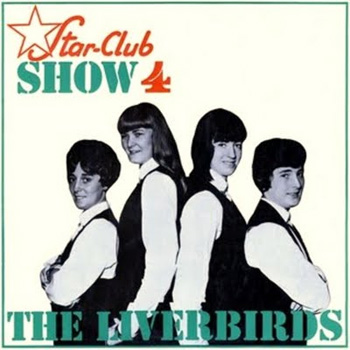 "Girls with guitars / What's the world coming to?" sang Mary Chapin Carpenter in 1993, with her Rickenbacker 620 clutched firmly to her bosom and her tongue firmly in her cheek. Since the emancipating mid-70s influence of punk, women have been free to pick up electric guitars and emulate, or even outperform, their male counterparts, either as solo virtuosi (Bonnie Raitt, Rosie Flores) or in all-female bands (the Slits, the Bangles). How different it all was back in the sixties! Ever since the arrival of the Stratocaster back in '54 the electric axe had garnered a near-universal image as a phallic symbol, culminating in the onstage antics of Hendrix, Page, Ted Nugent and Marc Bolan. As a matter of course, only men played the electric guitar and bass, and indeed the drum kit; a few lady folksingers got to pick melodiously at an acoustic, but during the Beat Era and the ensuing Golden Age Of Rock the idea of females seriously picking up the men's toys and running with them was almost unthinkable. What about Fender bassist Megan Davies with the Applejacks, or drummer Honey Lantree with the Honeycombs, you ask? OK, they turned a few heads on Ready Steady Go, but they were almost universally dismissed as novelties.
It was with some surprise, then, that I discovered the Liverbirds, a fully-fledged all-female Beat band from Liverpool who came together as early as 1962, were regulars at the Cavern, opened for the Rolling Stones several times in late '63, spent two years on the infamous Hamburg circuit, and despite a forecast to the contrary by John Lennon ("All-girl outfits can't last") stayed together for six years, finally bowing out after a tour of Japan. Nothing remotely folky about these ladies; they elected to play an abrasive brand of R'n'B with all the spiky garage-band pizzazz of the early Stones or Pretty Things, whilst coming onstage in masculine-cut waistcoat suits and frilled shirts for all the world like a female Kinks. Their enduring lineup featured Pam Birch on lead vocal and rhythm guitar, Valerie Gell on lead guitar, Mary McGlory on bass and Sylvia Saunders on kit, and their recorded legacy reveals that they all had real chops.
Beyond cosmopolitan Liverpool, the girls' reception by conservative UK audiences and sceptical record company A&R men proved predictably underwhelming. However, when invited to work in Germany by Star-Club owner Manfred Weissleder early in 1964 they immediately wowed the famously indulgent Reeperbahn audiences with their energetic, high-volume set of Chuck Berry and Bo Diddley covers, earning the nickname "die Weiblichen Beatles" – "the female Beatles". As an inducement to a second tour, Weissleder offered to record them on his recently-incepted label; their recording career on Star-Club would eventually stretch to four singles and two albums. German chart entries and TV appearances followed, and the girls toured extensively there and in Denmark and Switzerland, even once sharing a bill with Berry himself in Berlin, where legend has it they defied a management instruction to avoid Berry's songs and brazenly opened with "Roll Over Beethoven".
Their recordings were unsurprisingly never released in the UK, and apart from the odd anthologised track remained firmly underground here till compiled by Ace subsidiary Big Beat in 2010 as From Merseyside To Hamburg, the CD comprising the entire 1964-65 Star-Club recordings, 29 cuts in all. The tracks from their first original album, Star Club Show 4, are the best: raw, unadorned R'n'B covers recorded live in the studio. These could almost be the Pretties, driven along as they are by Birch's angry, punky contralto, McGlory's muscular, metronomic bass, Saunders's no-nonsense percussion and Gell's scratchy machine-gun Fender Jaguar lead work. Their takes on Chuck Berry's "Talking About You", Berry Gordy's "Money" and the blues chestnut "Got My Mojo Working" are fit to strip wallpaper. The later sessions offer more of the same but also move further towards Motown, with creditable tilts at the likes of Doug Sahm's "She's About A Mover", Holland-Dozier's "Heatwave" and Smokey Robinson's "Shop Around" – all good Reeperbahn fare – plus a couple of modestly Beatle-ish Pam Birch originals which originally appeared as single B-sides; the production is more measured and less viscerally exciting. Today, the individual albums remain unavailable but the compilation is a great-value testament to a bunch of pioneering female rockers, and is highly recommended.
Audio clip: Adobe Flash Player (version 9 or above) is required to play this audio clip. Download the latest version here. You also need to have JavaScript enabled in your browser.
"Talking About You"

Compilation | 2010 | Big Beat | buy here ]
Also Recommended