The Long Ryders "Native Sons"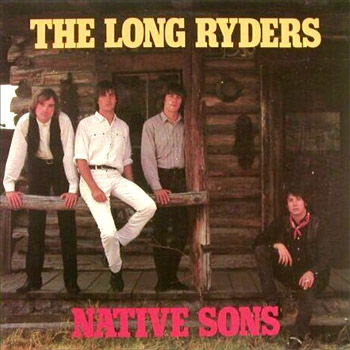 One of the best from the 80s underground, right up there with top albums by the Dream Syndicate, the Wipers, the Meat Puppets, the Minutemen and the Replacements. The Long Ryders had more of a genuine 60s sound though and this record, Native Sons, was their first album (not counting their debut ep, 10-5-60). This group hailed from Los Angeles California and was led by Kentucky native Sid Griffin, a man well versed in the history of rock n roll. Griffin headed out to LA when he heard about the city's thriving punk scene. Over time Griffin would meet up with guitarist Steve McCarthy, bassist Barry Shank, and drummer Greg Sowders. Prior to the Long Ryders Griffin and Shank had been in garage revival band the Unclaimed. Over time Tom Stevens would become the group's full-time bass player and this period would see them gain a respectable live following. The group would eventually become the Long Ryders and fuse 60s style garage rock and folk-rock with a country-rock feel. Native Sons was a brilliant debut lp and in some ways similar to the Byrds' Younger Than Yesterday, in its unique fusion of folk, country, pop and psychedelia. Also, Native Sons' album cover strongly recalled Buffalo Springfield's shelved album, Stampede.
There is real importance in Native Sons though, as the Long Ryders among others, put country-rock back on the map and made the style credible again. In the mid 70s groups like the Eagles were responsible for tarnishing the genre's reputation, turning something that was intelligent and underground into glossy creampuff pop. So it took a few years and a couple of great albums by groups like Jason and the Scorchers and Rank and File to restore country-rock's credibility among the underground. On Ivory Tower, Griffin managed to get Gene Clark in the studio to provide backup vocals. Ivory Tower ended up being one of the great lost 80s tracks, downbeat and moody, sounding like a really terrific fusion of mid 60s Byrds and the early 70s solo work of Gene Clark. Sweet Mental Revenge, the album's only cover (Mel Tillis), was an excellent reading notable for its appealing vocals and fuzz guitar work – a style that is referred to today as cowpunk. Another superb track, the humorous Fair Game, is closer in spirit to blue grass and foreshadowed Griffin's work with the Cole Porters. I Had a Dream and Wreck of the 809 are underrated gems that listeners often forget about. These tracks display the Long Ryders' garage band roots and are full of jangly guitars, aggressive vocals, feedback and lots of fuzz. This album is an absolute joy and a must for paisley underground fans and 60s rock junkies.
The Long Ryders were one of the great American underground groups of the 80s. They made recordings that have proven to be timeless and inventive, records that balanced intensity with humor. Besides writing great songs, their talent lies in the ability to take from the past and create something totally fresh and original. Their live shows were spectacular and the group garnered much respect from their peers. All three of their original albums are highly recommended.
Audio clip: Adobe Flash Player (version 9 or above) is required to play this audio clip. Download the latest version here. You also need to have JavaScript enabled in your browser.
"Ivory Tower"

CD Reissue | 1993 | Frontier | buy from amazon
]


Original Vinyl | 1984 | Frontier | search ebay ]


MP3 Album | download at amazon
]
Also Recommended