The Moody Blues "In Search Of The Lost Chord"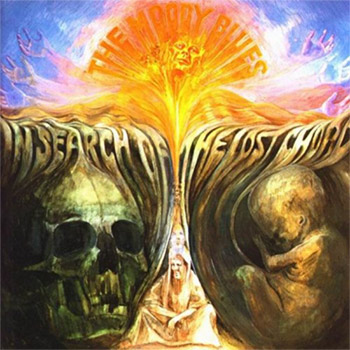 It took a while for the Moody Blues to catch on in the US, though their retrospective catalogue scored quite well there after 1971. At home in the UK, however, the Moodies were huge during what I think was their best period, 1968-1970, when their highly individual and sophisticated mix of psych and prog was always spinning on the platters of more cerebral music lovers.
After the band's 1967 reshuffle, their yearning to combine pop and classical musics surfaced strongly. The first effort, Days Of Future Passed, interleaved some good early Moodies songs with second-rate orchestral interludes resembling B-movie soundtracks, and was therefore a patchy affair. Then Mike Pinder discovered the Mellotron, and everything clicked into place.
Pinder is probably the most accomplished Mellotron practitioner of the era, and during the period 1968-70, when miking of acoustic pianos was still hit-and-miss, it was the only onstage keyboard he employed. Its sound in his hands is absolutely fundamental to the Moodies' output of the times. This is not to downplay the musicianship of the other members; especially notable are John Lodge's bass playing, his picked Fender Jazz lines and arpeggios functioning as a further lead instrument, and Ray Thomas's flute solos and obligatos, this instrument being rare in rock at the time.
The songs on In Search Of The Lost Chord feature lyrics of the sort that would ultimately make the Moodies a bit of a laughing stock for a while: plenty of hippie mysticism and Oriental metaphysical musing typical of the era. But they are delivered by four fine solo voices, often combining to produce immaculate harmonies. The melodies and accompaniments are top quality and there's plenty of variation in keys and time signatures. Above all this there's a spirit of experimentation typical of the times, with band members tackling unfamiliar instruments – Pinder on harpsichord, Justin Hayward on sitar, Lodge on cello, Thomas on oboe, Grahame Edge on a kit of cardboard boxes – and a production which belies the limitations of the recording equipment then available to the band, with segues, fade-ins and fade-outs galore.
"Legend Of A Mind" is part of a short suite, bookended by "House Of Four Doors" Parts One and Two, but stands alone quite capably. Like many other tracks on the album, this tongue-in-cheek paean to LSD guru Timothy Leary and its bracketing tracks feature some breathless sound effects. These achieve their zenith in "The Best Way To Travel", whose stereo effects were quite startling to a generation unused to the new mode of sound reproduction. Of the other tracks, "Ride My See Saw" is a galloping rocker often reserved for a show closer on stage, while "Om" incorporates an Oriental chant with huge drum sounds and vocals that sound like a revved-up football crowd.
Very much of its time, and subject to ridicule a decade later, today In Search Of The Lost Chord represents what was best in the days when psychedelia was mutating into progressive music. The follow-up, On The Threshold Of A Dream, offered the same high quality and experimental edge, with subsequent works becoming rather safer and more predictable, if even more grandiose.
PS: this is one that doesn't work in mono!
Audio clip: Adobe Flash Player (version 9 or above) is required to play this audio clip. Download the latest version here. You also need to have JavaScript enabled in your browser.
"The Best Way to Travel"

CD Reissue | 2008 | Polydor | at amazon ]


Original Vinyl | 1968 | Deram | at ebay ]


Spotify link | listen ]
Also Recommended