The Moon "Without Earth"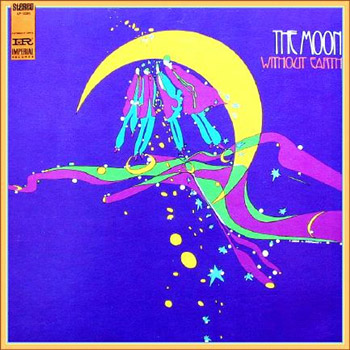 The Moon were somewhat of a second tier 60's rock super group. This group was headed by David Marks and Matthew Moore. Prior to the Moon, Marks had been in the Beach Boys (rhythm guitar) and played on their first four albums. After this stint he fronted Dave and the Marksmen who enjoyed several local hits. Moore had been in the Matthew Moore Plus Four and had previously recorded with Capital and White Whale. The Moon formed right after Marks had disbanded his latest group, the Band Without a Name, who themselves recorded 2 singles for Tower and Sidewalk.
The Moon recorded two albums in 1968 and 1969 for Imperial. At this point the lineup was Matthew Moore (piano, chief songwriter and lead vocals), David Marks (lead guitar), Larry Brown (drums) and Drew Bennett (bass). The above debut, Without Earth is by far the stronger record with more psychedelic arrangements and a greater consistency – though some fans would argue this, favoring the more mature sounding sophomore effort. There's a clear Magical Mystery Tour feel to this album and the group covers two songs off Colours' (another obscure American popsike group) debut album. Of the two tracks, Brother Lou's Love Colony catches the ear most, with its nice little sitar flourishes and Beatles influenced bridge. The remaining 10 tracks are Moore originals, all really good but none sound like they could have reached top 40 radio. The group hit a good hard rock groove on Got To Be On My Way, a tune notable for its liquid distorted guitar. I Should Be Dreaming and Walking Around are spacey psych pop gems whose backward cymbals glitter and flicker while the sitars and vocal echo help convey an authentic acid experience. One of the best tracks off the album, Someday Girl, is a beautiful venture into soft pop with a heavenly melody and even prettier strings. Another similar track, Face, sports a nice pro sound with great fuzz bass and a catchy chorus while Give Me More achieves fragile beauty.
Jon Stebbins chronicled both the Moon and David Marks' story in "The Lost Beach Boy
." In this book author Jon Stebbins mentions that Give Me More was what he felt to be the group's most enduring track and a work that defined the Moon's sound best. This album may not be as distinctive or original as the Smoke but it's still a mini gem of Beatles inspired rock – even the cover art recalls the psychedelic era Fab Four. Without Earth was recently reissued by Rev-Ola and includes the group's much inferior followup, The Moon.
Audio clip: Adobe Flash Player (version 9 or above) is required to play this audio clip. Download the latest version here. You also need to have JavaScript enabled in your browser.
"Got To Be On My Way"

CD Reissue | 2004 | Revola | buy from revola | amazon
]


Original Vinyl | 1968 | Imperial | search ebay ]
Also Recommended