The New Colony Six "Breakthrough"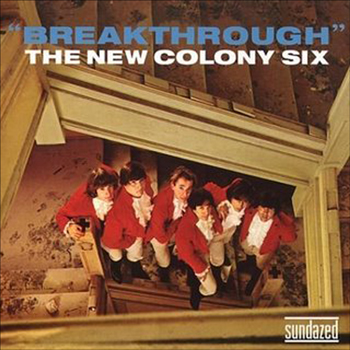 This midwesterner is jam packed full of great songs in the classic garage tradition. The New Colony Six was founded by lead vocalist Ray Graffia but included a fine guitarist by the name of Jerry VanKollenburg, organist Wally Kemp, bassist Craig Kemp, vocalist Pat McBride and drummer Chic James.
They took Chicago by storm on their debut Centaur single I Confess (1965) which is featured on the above lp. It was a tough British Invasion powered single that reached the #2 position on the WLS Silver Dollar Survey. Confess was only kept from being a #1 local hit by Lou Christie's "Lightning Strikes" and notable for the inventive guitar sound created by VanKollenburg feeding his instrument through a Leslie speaker.
Around the time of recording their debut lp, the band decided to release the legendary At The River's Edge single. Although the very good flip I Lie Awake received airplay, At The River's Edge was really their moment in the sun. It was a menacing garage punk single driven by frantic pace and wild harmonica playing, At The River's Edge was Chicago's version of Them's fantastic Mystic Eyes single. At this point the New Colony Six were a popular live act throughout Chicago and were known to raise hell on stage. During the summer of 1966 Breakthrough was released, and if there was any flaw at all with the lp it came down to the two lunk headed covers of current pop rock singles Hang On Sloopy and Mr. You're A Better Man Than I. The other 10 songs were sterling group originals ranging from tough gritty rockers to softer more melodic folk-rockers. Besides the superb singles other highlights were the Raiders-like A Heart Is Made Of Many Things and the dreamy Don't You Think It's Time To Stop You're Crying which featured more ace guitar work from VanKollenburg. Another song worth pointing out is The Time Of The Year Is Sunset. Other reviewers have mentioned that this reflective gem could be a counter part to the Rising Storm's killer Frozen Laughter.
All in all this is a very strong debut that will appeal to fans of the early Guess Who, Outburst era Wailers, and mid period Paul Revere and the Raiders. The band released some other fine singles and a respectable though less aggressive garage pop album titled Colonization before transforming into a bubblegum-hit-making act.
Audio clip: Adobe Flash Player (version 9 or above) is required to play this audio clip. Download the latest version here. You also need to have JavaScript enabled in your browser.
"I Confess"
Below is one of the highlights from their second album Colonization
. Let Me Love You was one of their last true classics and underneath the psychedelic production and monstrous fuzz leads is a folk-rock song with a soft, pretty middle section and glittering 12-string guitar runs. They rerecorded a much better version of Mr. You're a Better Man Than I that works quite well too. While not as good nor as raw as Breakthrough, Colonization
is still a solid pop record that hinted at their bubblegum future.
Audio clip: Adobe Flash Player (version 9 or above) is required to play this audio clip. Download the latest version here. You also need to have JavaScript enabled in your browser.
"Let Me Love You"
[ Buy from Amazon
| Search eBay ]
Also Recommended