The Nice "Ars Longa Vita Brevis"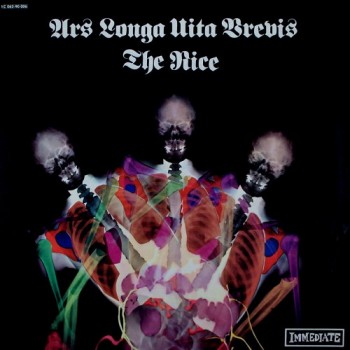 Opinions on this, the band's second album, are so polarised that I did seriously think of suggesting it for a uReview, but I guess it's not well enough known to make that a starter. Nonetheless, the only thing more polarised than its reviews is the nature of the opus itself. The first three tracks are some of the most wigged-out psychedelic songs ever recorded; these almost universally garner critical praise. By contrast the remainder of the album sees the genesis of Keith Emerson's bombastic "pomp-rock" style, via cod-classical and bebop jazz; this element of his output has been popularly ridiculed for years. Not that this ever worried him: the Nice always existed on the edge, offering compromises to nobody, even in the band's name – a "nice" is hippie argot for a person who's high and happy on marijuana. And, being far and away the most prodigiously talented rock keyboardist ever, arrogance and excess came early and easily to Emerson; the only difference between the Nice and ELP is that the earlier band didn't sell squillions of albums. The title of this one translates loosely as "life is short but art endures" – perhaps indicative of Keith's elevated opinion of his own product.
The excellent psych confections "Daddy, Where Did I Come From?", "Little Arabella" and "Happy Freuds" fall somewhere between Syd Barrett and early Zappa, offering a variety of sophisticated musical backings with ludicrous Alice-in-Wonderland lyrics in which bassist Lee Jackson's vocal limitations actually contribute to the effect (with the help of a little vari-speed and echo). These lead into what is probably Emerson's best-ever classical reinterpretation – at nine minutes a little too long to sample here – in which the somber, gorgeous melody of Sibelius's "Intermezzo" from the Karelia Suite becomes a furious military march overlaid by brilliant Hammond harmonisation and a contrapuntal, partly bowed bass line. The title track, somewhat ingenuously subtitled "Symphony For Group And Orchestra", actually consists of four very disparate segued pieces, linked only by brief Copland-esque orchestrations in the Prelude, the Coda and between the second and third "movements"; elsewhere, the orchestra is used only sparingly. "Awakening" is the vehicle (this being 1968-) for a somewhat underwhelming Brian Davison drumkit solo, while "Realisation" starts with some pretentious poetry from Jackson before dissolving into a clattering bebop-style piano tour-de-force. The orchestra features more strongly in the lilting "Acceptance" a.k.a. "Brandenburger", in which J S Bach's delightful theme from the third Brandenburg Concerto is further enlivened by some gloriously bluesy Hammond soloing; it'd be nice to think that old Johann Sebastian would have appreciated this joyous updating of his work. Finally, "Denial" provides a noisy proto-prog instrumental workout for all three musicians before the orchestra reappears for the short coda. The CD reissue's bonus tracks include the band's infamous reworking of Bernstein's "America", which the composer reportedly did NOT find amusing.
Note that the whole of this album can be found on The Immediate Anthology200, which is a bargain compilation excellent in most respects but substitutes a mono-only version of "Arabella" (in this case definitely inferior!) and an earlier demo version of "Daddy" (likewise). The pukka item also offers a good retrospective booklet.
Audio clip: Adobe Flash Player (version 9 or above) is required to play this audio clip. Download the latest version here. You also need to have JavaScript enabled in your browser.
"Daddy, Where Did I Come From?"

The Immediate Collection | 2000 | Castle Music UK | at amazon ]


Original Vinyl | 1968 | Immediate | search ebay ]


Spotify link | listen ]
Also Recommended