The Nitty Gritty Dirt Band "Uncle Charlie & His Dog Teddy"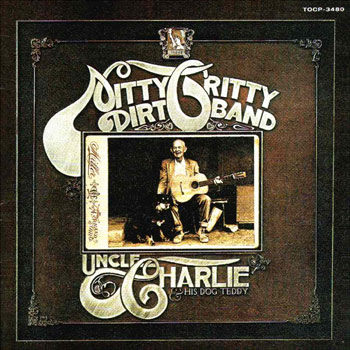 It's kind of a shame the Nitty Gritty Dirt Band is best known for an album that isn't really theirs. Will The Circle Be Unbroken
is a landmark bluegrass recording organized by the NGDB, but the main draw are performances by legends like Maybelle Carter and Earl Scruggs and the songs are mostly traditional. To get to the heart of what the real Dirt Band were all about, you have to look past the 'tribute' album, delving into the solid string of albums leading up to it (and beyond), especially this excellent 1970 outing released just before Circle.
Uncle Charlie is a bold mix of classic rock, country rock, audio pastiche, and traditional bluegrass – maybe one of the best country rock records this side of the Fantastic Expedition. The songs fiddle their way into your consciousness at the same non-immediate pace it takes with Dillard & Clark. But for those familiar with classic rocknroll and Americana, these finely curated tunes should get to you pretty quick. Only a few songs were actually written by members of the Dirt Band, with great contributions from Michael Nesmith, Kenny Loggins, Randy Newman, and Jerry Jeff Walker, who contributed a major gift with Mr. Bojangles (NGDB recorded a definitive version on this record). You can hear the idea forming for Circle in the banter from the band before and after 'live' cuts, and the recordings of old Uncle Charlie and his singing dog. A song with hit potential, Prodigal's Return is the equal of any classic rock radio staple, but fresher and better, completely untouched by the machine of overplayed hits.
Sweeter numbers really shine on this disc, like the bare bones treatment to Randy Newman's Livin' Without You and Nezzy's laid-back and easy Propinquity, though I can't quite get a handle on House At Pooh Corner: did they sing about Christopher Robin and Owl for kids? And why do I like it so much? There's also such a hard rocking version of Buddy Holly's Rave On that it resembles the feel of a Roxy Music song. Let me not undermine the strength of the original songs on the album, however as Cure, Traveling Mood, and the various other snippets bring Uncle Charlie full circle, so to speak.
The early Dirt Band albums never caught on, probably because of their jug band sound – though they were one of the few bands with the skills to pull off a successful jug band rock. Their live album, Alive, is great as is the debut, Ricochet (a true lost 60s classic), and Rare Junk. But the triumvirate of Uncle Charlie, Circle, and Stars and Stripes Forever are considered their high water mark. Nitty Gritty's the real deal.
Audio clip: Adobe Flash Player (version 9 or above) is required to play this audio clip. Download the latest version here. You also need to have JavaScript enabled in your browser.
"Prodigal's Return"
Audio clip: Adobe Flash Player (version 9 or above) is required to play this audio clip. Download the latest version here. You also need to have JavaScript enabled in your browser.
"Livin' Without You"

CD Reissue | 2003 | Capitol | buy from amazon
]


Original Vinyl | 1970 | Liberty | search ebay ]


MP3 Download | buy from amazon
]
Also Recommended