The Paupers "Ellis Island"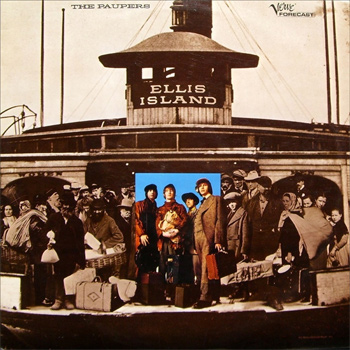 The Paupers don't really need any introduction in these pages. Their debut record, Magic People, has already been discussed in an earlier review, and whatever biographical information Jason did not cover there can be found in this beautifully comprehensive history of the band over at Garage Hangover. Their 1968 swan song Ellis Island is such a unique piece of late-sixties psychedelia, however, that I think it more than deserves its own moment in the sun here on the Storm.
The opening cut here was my personal introduction to this band and it'd be hard to ask for a better first impression. "South Down Road" is a semi-orchestrated epic that rests somewhere between the West Coast rock of Quicksilver Messenger Service and early progressive rock. The dramatic arrangement, featuring buzz-saw guitar and sweeping strings, keeps this one from dissolving into monotony during any of its eight and a half minutes. The music here sounds like the hippest 1960s film soundtrack that never was. It's a risky move to open your album with as ambitious a recording as this, but The Paupers not only make it work, but manage to draw the excitement established by this opening cut through the rest of the album without surrendering a shred of energy.
The majority of the songs on Ellis Island are in step with the sounds laid down on "Road," featuring a good dose of fuzz-tone guitar and swelling organs. As is often the case, however, those songs which stray furthest from this pattern are some of the most interesting. The weird, affected piano ballad "Ask Her Again" is more than a little reminiscent of Van Dyke Parks' straighter moments on Song Cycle, while "Another Man's Hair On My Razor" is an early, tongue-in-cheek stab at country-rock. Few 1960s bands ever succeeded at doing atmospheric balladry like the Paupers do on "Oh, That She Might," which somehow manages to incorporate delicate strings and a jazzy, night club saxophone without collapsing into affectation or period schmaltz. Perhaps the closest thing to a bum note here is the closing piece, which is in a somewhat earlier rock and roll vein and features a rather uninspired boogie-woogie piano arrangement.
Ellis Island was reissued on compact disc by Lion Records,and though it has since gone out of print, a used copy is not hard to find. In fact, original vinyl copies are surprisingly common, making this one of those rare obscurities that is both as solid as its reputation and accessible to those folks who don't want to shell out a leg and an arm for a listen.
mp3: South Down Road
mp3: Ask Her Again

Original | 1968 | Verve | search ebay ]


Reissue | 2007 | Lion | buy here ]
Also Recommended