The Poor "Help The Poor"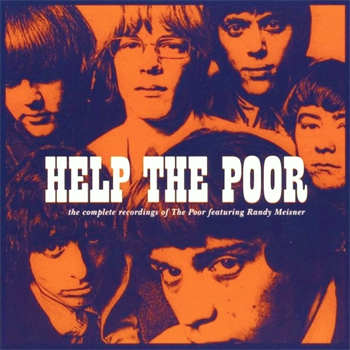 Eagles may have earned themselves a reputation for taking late 1960s country rock and turning it into slick, corporate drivel, but that doesn't change the fact that the band's early members have some solid histories in underground rock and roll. Just check Bernie Leadon's much-lauded work with The Flying Burrito Brothers, Dillard & Clark, and Hearts and Flowers (and that's one horribly abbreviated list) for a glimpse. One of the least explored Eagles histories, however, is that of bass player Randy Meisner. Not only did Meisner work high-profile stints with Poco and the Stone Canyon Band, but he also served time in a number of far-lesser-known mid-sixties garage bands, such as The Poor, The Esquires, and The Soul Survivors, all of whose recordings have been assembled by Sound City Music on 2003's rather forgotten Help the Poor.
If the Eagles references have you frightened, fear not: Help the Poor is solid psychedelic garage rock, about as far removed from Meisner's later band's output as you can get. From the chiming folk-rock of "Hung Up On Losing" to the crashing psychedelia of Tom Shipley's "She's Got the Time, She's Got the Changes," this is a platter full of strong songwriting, sharp harmonies, and adventurous arrangements. These guys knew what they were doing, taking cues from west-coast combos like The Byrds and The Association and adding a hefty dose of sonic bite. If there's any complaint to be made here it's that this anthology is rather top-heavy: the first half-dozen cuts are absolutely phenomenal could-have-been-hit-singles, while the remainder (with the exception of the aforementioned "She's Got the Changes," which is actually one of my favorite pieces here) tend to be a little less memorable.
As is always the case with a comprehensive anthology spanning two or three different bands, you are bound to get some musical anomalies. The choogling surf-rock of "The Prophet" (the only cut we get from Meisner's short-lived Esquires) is Help the Poor's case-in-point, featuring a booming introduction and awkwardly overdubbed applause which mar an otherwise righteous Morricone flavored instrumental. The album as a whole remains an exciting listen, however, and like all successful compilations leaves the attuned listener hungry for more. Too bad this fifteen-track collection looks to be all we get – another should-have-been from an era brimming with great sounds.
mp3: Come Back Baby
mp3: She's Got the Time, She's Got the Changes

Collection | 2000 | Sound City Music | buy here ]
Also Recommended