The Rationals "Think Rational/Fan Club LP"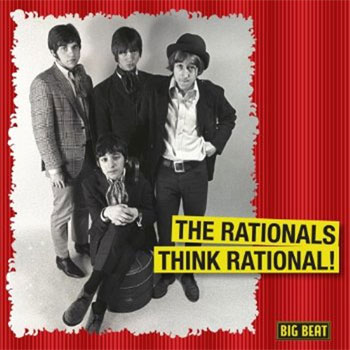 The Rationals are the most important early Detroit/Ann Arbor group.   Although they only had a few huge regional hits, they were highly influential on the Detroit/Ann Arbor club scene and their music has aged gracefully.  Maybe not the first rock n roll group to hail from the Mid West region but certainly one of the best, The Rationals had a unique garage/teenbeat sound early on; eventually they would take a drastic left turn into hard soul and heavy Detriot rock n roll during the late 60s.
In the summer of 2009 Big Beat reissued all the group's early singles and outtakes on double disc anthology Think Rational. This first time legit reissue of the group's early years is not without its flaws.  For one, Big Beat did not include the group's Not Like It Is single, instead we get an underdub of the Cameo 45 that's about 30 seconds longer and without the handclaps.  Also, some of the Fan Club LP (only two were pressed back in 66/67!) is missing. Two instrumentals, Wayfaring Stranger (a very cool folk-rock surf instro) and Jam, plus alternate takes of some early singles are not included (Gave My Love, Little Girls Cry, and Look What You're Doing).  While these 3 tracks are part of the original Fan Club LP the alternate versions aren't all that different from the officially released singles (sound quality differs slightly on the alternate takes).  I've been told that the Fan Club LP will be released on vinyl sometime in the near future though I'm not sure which label will be doing the honors.  With that said, Think Rational is a great package, evenly divided between the group's garage and soul eras.  Without doubt this is one of the best reissues of 2009.
Audio clip: Adobe Flash Player (version 9 or above) is required to play this audio clip. Download the latest version here. You also need to have JavaScript enabled in your browser.
"Wayfaring Stranger"

2CD Reissue | 2009 | 101 Distribution | purchase ]


Original Vinyl | The Rationals | search ebay ]


Spotify link | listen ]
Also Recommended