The Red Krayola "God Bless the Red Krayola and All Who Sail With It"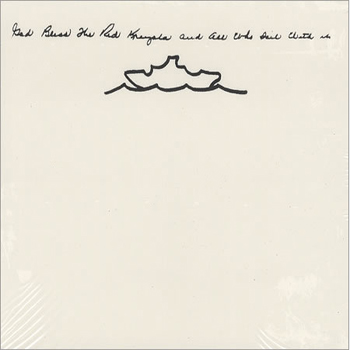 Sued by Crayola for naming rights, this is the band's first album under their new 'Krayola' moniker, a stripped down follow-up to their debut record, the freaked out Parable of Arable Land. Actually it's a remake of a rejected (by International Artists) 2nd album called Coconut Hotel. Mayo Thompson essentially pasted together a daring audio collage with amateur musicians, dada lyrics sung by choruses of friends, original (opposed to ' found') sounds, a little Texas grit, psychedelic glue, and it holds up well today.
I love how the band continually loses the rhythmn on "Sherrif Jack," teasing any possibility of a groove, eventually bringing back the 'Say Hello To Jamie Jones' motif when things fall apart. Tracks like "Big" are really ahead of its time with the unintelligible childspeak sample and organ, bass, guitar trio playing a scarcely organized sample-and-hold pattern. Short songs make the album really tolerable and engaging, an enjoyable trip that would influence countless lo-fi and bedroom musicians for years to come.
This album reminds us that music doesn't have to be perfect, it doesn't have to be serious, and you don't have to be a virtuoso to record a fantastic record.
Audio clip: Adobe Flash Player (version 9 or above) is required to play this audio clip. Download the latest version here. You also need to have JavaScript enabled in your browser.
"Sherriff Jack"

CD Reissue | 2CD w/ Parable | 2007 | Snapper | buy at amazon
]


CD Reissue | Mini Gatefold Limited Edition | 2003 | Sunspots | buy at amazon
]


Original Vinyl | 1968 | International Artists | search ebay ]


Spotify link | listen ]
Also Recommended