The Remains (self-titled)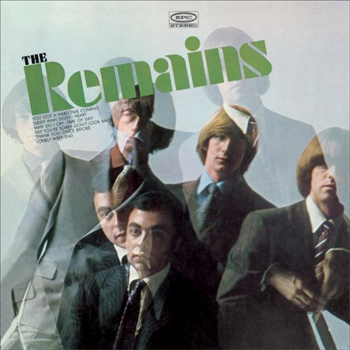 This album was out of print when I initially reviewed it here, and I've got the old flashy yellow cover, which is a Greatest Hits collection but still a blazing hot disc. A month later their self-titled debut lp was reissued featuring the original album artwork, which is an important update. The yellow cover makes the Remains look like some novelty rock act, whereas the cover above restores their authenticity and edge. The Remains are positively one of the best rock bands you've never heard.
Barry Tashian and The Remains used to cook it up for Boston audiences back in the mid 60s (they were originally from Brookline), and this record, though none of it recorded live, is still proof. The beauty is in their by-the-book formula: loud rhythm guitars, electric piano, bluesy bass riffs, and most importantly, great songs.
The Remains get it started every time. But apparently they had trouble doing so for Beatles fans. The Remains toured with the fab four a short while, playing to a screaming mob who were impatiently awaiting one of the all time historic rock concerts. But the truth is, the Remains deserved all the same attention back then, and now we can give it back, for the first time in style. Will I be buying the reissue just for the packaging? Yes, I think I will.
Literally, every song on this record is good. Each one a gem so surprisingly radio friendly it's astonishing to think we haven't heard these before. They are quick friends with instant familiarity and appreciating resonance.
If you'd like to hear The Remains tear it apart in a live setting, check out A Session With The Remains
from Sundazed, a live studio audition recording.
Barry Tashian used to play with Gram Parsons on GP and some stuff for the Burritos. Currently he is playing and recording bluegrass music with his wife, Holly.
Audio clip: Adobe Flash Player (version 9 or above) is required to play this audio clip. Download the latest version here. You also need to have JavaScript enabled in your browser.
"Time Of Day"
[ Buy from Amazon
| iTunes | The Remains' brand new web site ]
Also Recommended