The Rolling Stones "Aftermath (UK)"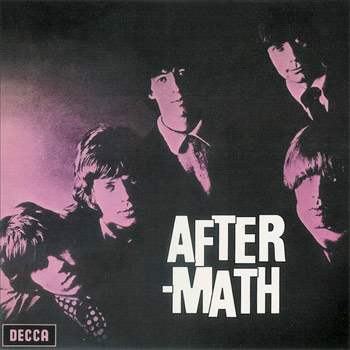 The Rolling Stones may still elicit the soubriquet "the greatest rock'n'roll band in the world", but in my opinion they've produced in a 42-year recording history (to A Bigger Bang, 2005) just two albums really worthy of the full five stars. Both came in the 1960s when they were still comparatively young and hungry, and both interestingly represent periods of transition. Aftermath was a product of their move from faux American R'n'B garage band towards a British pop-psych sensibility motivated by the success of mid-period Beatles and the demand by their manager, Andrew Loog Oldham, that they develop as songwriters; and Beggars' Banquet the corresponding move back to their roots, post-psychedelia.
Aftermath was the Stones' first album to comprise only their own compositions, and can be compared to Rubber Soul in its mix of adventurousness and commercial appeal. Although Jagger's and Richards' songs are in general not as strong harmonically as Lennon's and McCartney's – the Stones lacking the Fabs' insight into such diverse musical fields as jazz, Tamla, country and showtunes, not to mention a studio Svengali of the calibre of George Martin – the best of them are right up there, and the eclectic instrumentation brought to bear by Brian Jones, Jack Nitzsche and the invisible "sixth Stone" Ian Stewart is every bit as effective as Martin's baroque embellishments. "Under My Thumb", "Take It Or Leave It" and "Out Of Time" were all considered commercial enough to be covered immediately as singles by high-profile acts. The eleven-minute bluesy jam "Going Home" (not the Ten Years After song) was unprecedented on a British pop album, yet works brilliantly in the context of the wider work. The one dubious quality is the mysogynous nature of many of the lyrics; "Stupid Girl", "Thumb", "Time", "Dontcha Bother Me" and "Take It" unambiguously reveal Jagger's prevailing frame of mind.
Despite the classic British Invasion sound of the album, it was recorded in RCA's Hollywood studios and engineered by Dave Hassinger, who would fall out big-time with the Grateful Dead a year or two later but who got along famously with the Stones if his sleeve notes are to be believed. Production was, as usual, credited to Oldham, but Nitzsche was ever-present at the sessions and the hallmarks of his touch are all over the record. North American readers should note that Aftermath UK is a greatly superior artefact to the US release of the same name, benefitting from omission of the superfluous previous hit single and from the band's preferred sequencing, not to mention offering fourteen tracks against the US version's eleven.
Audio clip: Adobe Flash Player (version 9 or above) is required to play this audio clip. Download the latest version here. You also need to have JavaScript enabled in your browser.
"Mother's Little Helper"

CD Reissue |  2002 | Abkco | at amazon ]


Original Vinyl |  1966 | Decca | at ebay ]


Spotify link | listen ]
Also Recommended