The Savage Rose "Savage Rose"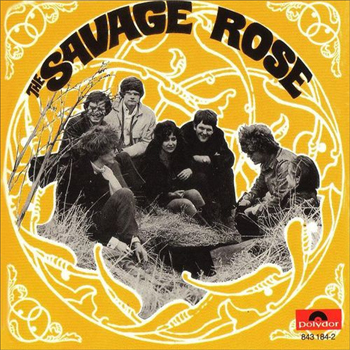 This is one of the great rock albums from 1968. Denmark's Savage Rose are one of the greatest European experimental, progressive bands with a career that successfully spans over 40 years. Legendary rock critic Lester Bangs ranted and raved over the Rose and lead singer Anisette's stunning vocal approach. He once described the frightening, powerhouse lead singer: "Grace Slick at 78 RPM"; "Minnie Mouse on a belladonna jag" and claimed that the band's early 70's album Refugee alongside 71's Who's Next, were a reason to believe in the magic and life force of rock & roll.
The band was formed in 1967 by songwriters Thomas and Anders Koppel (keyboards, piano and harpsichord) and drummer Alex Riel. Their sound was organ/keyboard dominated but guitarist Flemming Ostermann lent a helping hand with some wonderful jazz influenced guitar licks. This stunning debut appeared a year later featuring 11 strong tracks straight from the streets of Demark. Incredible songs like A Girl I Once Knew, You'll Be Alright and Open Air Shop are highlighted by Annisette's wailing vocals but it's the arrangements that are equally brilliant and a breath of fresh air. Some people refer to this disc as psychedelic but that's not really the case as there are no whacked out studio sound effects, phased vocals, raga guitar solos and the like. Many of the songs are strongly influenced by European folk, jazz, classical and soul music though the organ playing occasionally delves into some trippy, underwater soundscapes. Other tracks like Sleep and You Be Free are beautiful, dreamy statements that drift away in a Euro haze but are equally as good as the more intense, hard rocking numbers.
This record is strong all over with impressive musicianship, excellent tracks, diversity and of course, great songwriting. It's also worth noting that in recent years the band as well as Anisette's vocal style have provided a major inspiration to many of the new folk and progressive artists. The Savage Rose's first 8 albums are all worth getting but it's In The Plain (68-), Your Daily Gift (71), Refugee (71), the progressive Dodens Triumf (72) and this fabulous debut that are considered great Euro rock classics.
Audio clip: Adobe Flash Player (version 9 or above) is required to play this audio clip. Download the latest version here. You also need to have JavaScript enabled in your browser.
"Open Air Shop"
Below is a track from the Your Daily Gift album. Unfold deserves special attention because not only is it a great track but it shows the band taking in an experimental C&W influence. Anisette's vocals sound weathered, wise, and fantastic and Unfold is also notable for a fine harpsichord intro.
Audio clip: Adobe Flash Player (version 9 or above) is required to play this audio clip. Download the latest version here. You also need to have JavaScript enabled in your browser.
"Unfold"
[ Buy @ amazon
| Search @ eBay ]
Also Recommended