The Stone Poneys (s/t)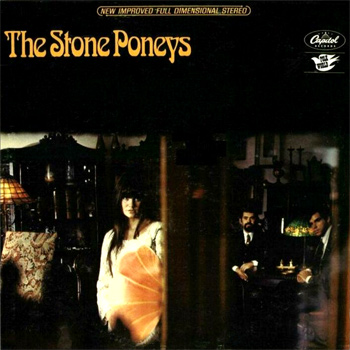 The Stone Poneys should be much more than a footnote. Forever eclipsed by Linda Ronstadt's latter-day success, the band has found itself set down in history as little more than an early backing group for the singer – hardly a fair assessment, especially considering the strength of the material recorded by the band, of which Ronstadt was only one contributor. In fact, Poneys Ken Edwards and Bob Kimmel were remarkable singers in their own right and actually penned all of the group's original material.
The Poneys' self-titled debut is perhaps their strongest statement as a band. Produced by the great west-coast folk-rock producer Nick Venet (Fred Neil, Hedge & Donna, et al.), the album typifies the slow and hazy L.A. sound that would become the man's signature. Venet would also serve to connect the recent Tucson immigrants with several other players on the local folk scene, most notably Tim Buckley, whose songs they would soon go on to record, and the band Hearts & Flowers, who Linda would sing with on their 1968 record Now Is the Time.
Legendary multi-instrumentalist Cyrus Faryar's bouzouki opens the album and kicks off one of its most memorable songs, Edwards and Kimmel's "Sweet Summer Blue & Gold." Starring the Poneys' beautiful vocal blend set to a swirling, eastern folk-rock melody, this one could have easily become an underground hit. The singing also helps to immediately put into focus what the Poneys would later go on to lose: first when Linda began to take on the lion's share of the lead vocals, and at the end, when she essentially became the sole Poney.
All this is not to say that Ronstadt doesn't reveal her incredible talents on The Stone Poneys. Her soulful rendition of Fred Neil's "Just A Little Bit of Rain" is a stunner, and she really tears the roof off "Orion," a cut which foreshadows her rock and roll future while also driving home her companions songwriting abilities. On the second side of the record, Edwards and Ronstadt take a duet on the blue, drifting "The Train and the River," before borrowing the Rising Sons' arrangement of Tom Campbell and Linda Albertano's classic "2:10 Train" to bonnie effect.
Raven Records has reissued The Stone Poneys alongside the band's second album, Evergreen, which contains their famous recording of Mike Nesmith's "Different Drum," as well as a few key tracks from the final, Linda-centric Poneys record. I'd say this is definitely a collection to look into, especially if you aren't yet willing to hunt down all three records on vinyl.
Audio clip: Adobe Flash Player (version 9 or above) is required to play this audio clip. Download the latest version here. You also need to have JavaScript enabled in your browser.
"Sweet Summer Blue & Gold"

Reissue | 2008 | Raven | buy here ]


Original | 1967 | Capitol | search ebay ]


Spotify link | listen ]
Also Recommended