The Stranglers "Rattus Norvegicus"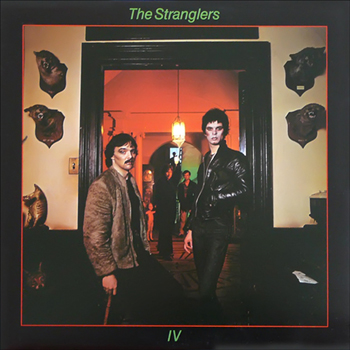 Rattus Norvegicus doesn't have a huge audience in America. It's a record passed over by a lot of rock aficionados, and swarms of gob spitting punk purists haven't heard a note of its snarl. How did this happen? It's got all the right ingredients – songs of alienation, angst, attitude and anarchy archetypes. Hell, it's even oozing with pre-punk psychedelic rock influences like The Doors, with a Manzarek like organ carrying its melodies along in a drunken stupor. The problem may be that (despite its influences) the album, like The Stranglers themselves, was a little too British. It's an ethnocentric disease that's paralyzed American music lovers from the ears down for decades. Groups like The Kinks, The Jam and The Stranglers never amassed the amount of attention from U.S. audiences that they rightfully deserved. Shame. They were talented, hungry and damn fine rock stars.
The record (which is named after the scientific labeling of a type of Norway rodent) is hard to pin down. It has the edge of an expletive laden punk EP and the long sweeping takes of your standard prog-rock concept album. The opening lyrics on their debut track "Sometimes" cuts in on the heavy organ crutch and grinding Peter Gunn style bass with a lip curled, "Someday I'm gonna smack your face. Somebody's gonna call your bluff. Somebody's gonna treat you rough." The beauty of Rattus Norvegicus can be found here, with its ability to simultaneously affront and appease. The band's sweet and sour take on the burgeoning punk movement would become a calling card for subsequent albums and would set them apart from the cookie-cutter one act groups forming at the time.
The star of the show is easily "Peaches", a song that drips attitude with a schoolboy's playful demeanor. The track may have confused some audiences into thinking that, lyrically speaking, The Stranglers were a sexist group of misanthropes who were quick to criticize any and every race, creed and belief structure. In actuality Hugh Cromwell, Jet Black, Jean-Jacques Burnel and crew were amateur satirists commenting on society at a confusing time in England's history. Had it not been for the run ins with the law and being acquaintances of the notorious Finchley Boys street gang, people might have seen the lyrics for a song like "Ugly" as observant or hilarious.
But when you hear the lyrics "I guess I shouldn't have strangled her to death, but I had to go to work and she laced my coffee with acid" out of context, you can't be blamed for your assumptions.
Rattus Norvegicus doesn't follow a straight and uncompromising journey into the abyss, a point of view that most punks initially adopted at that time. Instead the record is a cornucopia of surprising solos and swells of melody. "Princess of the Streets" seems completely disjointed from entries like "Goodbye Toulouse", a song that hints at the future sound of the band and a lot of the brilliance they already had as songwriters. Punk was something that can be nailed to a particular style, a particular time and a certain type of attitude. Well in The Stranglers' defense, Cromwell has been cited as saying that they never considered themselves punks. Their later albums delving into more pop friendly waters (as well as the production of a few concept albums) should come as no surprise then. Why should they be nailed to the punk rock cross when they never considered themselves its apostles to begin with?
Audio clip: Adobe Flash Player (version 9 or above) is required to play this audio clip. Download the latest version here. You also need to have JavaScript enabled in your browser.
"Peaches"
[ Good price @ Amazon
| search eBay ]
Also Recommended