The Swamp Rats "Disco Still Sucks!"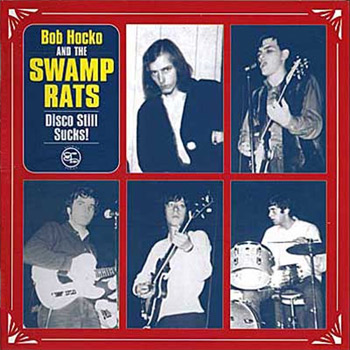 For a brief period in time the Swamp Rats were one of Pittsburgh's top rock n roll acts, they even needed bodyguards!  The group was basically an updated version of the Fantastic Dee-Jays, a crude garage pop group who released a handful of singles and a fine LP in 1966.  Unfortunately there would be no album for the Swamp Rats but most collectors agree that their original 45s represent some of the best (and rawest) music the genre ever produced.
The Swamp Rats' Disco Sucks! compilation was released on vinyl in 1979/1980.  The original LP had cuts from the group's 45s, an outtake, two reunion tracks from 1972 and a few tracks from Bob Hocko's mid 70s hard rock band, Galactus.  Fast Forward to 2003,  Get Hip releases Disco Still Sucks!, the definitive overview of this great band's mid 60s output.  The substandard reunion and Galactus tracks are thankfully replaced with quality unreleased Swamp Rats material.  Also, there are three acoustic Bob Hocko tracks that are unlisted but tacked on at the end of this disc. These cuts add nothing to the Swamp Rats' legacy and are actually quite dispensable.
The Swamp Rats were together for a brief period of time – a year, possibly a year and a half at most.  During that time they released 5 singles (one of them a Dee-Jays track) and recorded quite a bit of studio material (not all of this material has been released).  Their first 45 was a blazing, raw punk cover of "Louie Louie" backed by a fuzzy version of "Hey Joe."  This single was issued by St. Claire in 1966 and is one of the essential garage 45s – don't miss this one.  The way I see it is that only two groups other than the Kingsmen did right by "Louie Louie," one of them was the Sonics and the other was this masterful version put down on wax by the Swamp Rats.  A short while later the Swamp Rats issued their second 45, a cover of "Psycho" backed by a moody folk-rock interpretation of the Beatles' "Here, There and Everywhere."  "Psycho" was immortalized on the infamous first volume of Back From The Grave and is probably regarded as the group's finest effort.  "Psycho" is more guitar oriented than the Sonics' classic version as it features plenty of fuzz and a stinging solo by guitarist Dick Newton.   It's every bit as good as the Sonics' original but is also notable for Hocko's psychotic vocals and a brief backwards guitar outro.  One of the best fuzz guitar garage 45s ever cut.  Their next 45 was another classic, sneering fuzz monster titled "No Friend of Mine" backed by a mediocre Stones' cover ( "It's Not Easy").  Sadly, the Swamp Rats last 45 in 1967 was their weakest, a so/so cover of "In The Midnight Hour."
Disco Still Sucks! features all the single cuts plus several unreleased gems.  I can live without their "It's Not Easy" (there are two versions of this song) and "In The Midnight Hour" covers but everything else here is very good.  They turn in two powerful Kinks covers, a good raw version of "Tobacco Road" and two very impressive originals.  "I'm Going Home" is more of a moody folk-rock cut while "Hey Freak," as the title suggests, is another fuzz monster that would have been a great followup to "No Friend Of Mine."   So other than a few throw away tracks mentioned above (10 out of the 13 tracks are really good), this compilation of Swamp Rats material is essential listening.  They were one of the very best local garage punk groups of the mid 60s.
Audio clip: Adobe Flash Player (version 9 or above) is required to play this audio clip. Download the latest version here. You also need to have JavaScript enabled in your browser.
"No Friend Of Mine"

Vinyl Issue | 2004 | Get Hip | search ebay ]


CD Issue | 2003 | Get Hip | buy here ]


Spotify link | listen ]
Also Recommended