The Third Power "Believe"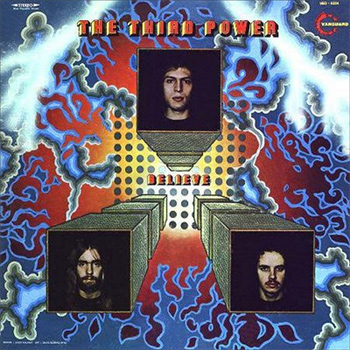 The Third Power get straplined nowadays as "Detroit's answer to Cream" and their sole album from 1970 is touted as "one of the finest psychedelic hard rock albums of its era". Frankly, the first statement is an exaggeration; okay, there are similarities, particularly to the Brit trio's live recordings, but find me a guitar-led three-piece of the time that didn't draw on Cream, and of course on Hendrix, if you will. Like Jack Bruce, bassist Jem Targal utilised the thick, grinding sound of a Gibson EB-3 and sang in a beautifully articulated sub-operatic high tenor that could sound uncannily like Bruce's, but guitarist Drew Abbott's style owed little to Eric Clapton other than in his use of the universal pentatonics and bends and his occasional wielding of a clangy, reverbed Firebird. However, like Cream (but unlike many of their contemporaries: take a bow, Grand Funk Railroad), these guys really could play. Targal frequently includes fearsome bass double-stops and whole chords that even Bruce would never have sanctioned, and drummer Jim Craig moves effortlessly from subtle snare rolls to all-out cymbal assaults on his double kit, whilst Abbott's funky rhythm chops and no-holds-barred mega-fast fretboard excursions contrast with Clapton's by-then mature, restrained studio technique.
The album, too, is certainly fine but exhibits few real psychedelic moments, though the band had sprung from genuinely psych beginnings as their fine '68 debut single (both sides included on the Relics CD reissue as bonus tracks) proves. By the time of their signing to Vanguard they'd settled into a straightforward progressive power-trio style based on collaborative musicianship with little studio trickery other than overdubbed lead guitars and occasional well-mixed-back keyboards. The material lacks the quirky artfulness of Bruce's compositions with lyricist Pete Brown and the reliable blues-based inflections of Clapton's writing with Martin Sharp; instead of Cream's prevailing jazzy edge and twelve-bar framework you get melodic riff-rock, rattling funk-rock and stately ballads, nothing startlingly original but masterfully performed, with a crisp production by Vanguard's legendary roots-music producer Sam Charters  which the reissue gratifyingly reproduces. The galloping "Lost In A Daydream" may owe a debt to Moby Grape, whilst "Comin' Home" borrows the bombastic drums and pounding bass of many a Led Zep moment, and they get undeniably close to Cream on "Feel So Lonely" whose centre section steals its live feel, rolling rhythm and wailing guitar leads directly from "Crossroads" on the live Wheels Of Fire. "Passed By" is a totally un-Cream-like ballad carried on 12-string acoustic, piano and tambourine, whilst "Crystalline Chandelier" with its windchimes, flowing orchestral basswork and baroque harmonies is about as psychedelic as they get and could, I guess, be compared to some of Jack Bruce's post-Cream solo work. The opening "Gettin' Together" and closing "Like Me Love Me" are full-on, distortion-laden generic hard rock with all three players firing on all cylinders. The only real concession to psych is the closing thirty-second untitled fade-out with its backwards snare drum rolls and processed "Little Drummer Boy" vocal.
The Third Power probably thought they'd clinched a good deal getting signed to the illustrious Vanguard imprint, and the quality of Charters's studio production must have appeared a real bonus, but allegedly the label found their product too heavy for its generally folky tastes and declined to give it any support at all, dropping the band almost immediately after its release. Despite modest sales around Michigan, boosted by appearances at Detroit's Grande Ballroom supporting local heroes the MC5 and Bob Seger and high-profile visiting acts, it never took off nationally and the trio split soon afterwards. Only Abbott seems to have subsequently prospered, lending his guitar skills to Seger's Silver Bullet Band. In 2009 the Third Power reformed to open the Grande Ballroom's 40 Year Reunion concert with Arthur Brown, Big Brother & The Holding Company and Canned Heat.
mp3: Feel so Lonely
mp3: Crystalline Chandelier

Original | 1970 | Vanguard | search ebay ]


Reissue | 2010 | Relics | buy here ]
Also Recommended