The West Coast Pop Art Experimental Band "Vol. 3 – A Child's Guide To Good and Evil"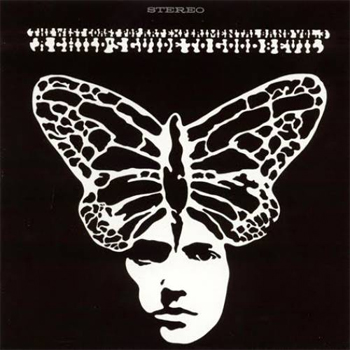 The West Coast Pop Art Experimental Band is one of those remarkable quasi-underground groups from the 1960s which nowadays inspires a sort of obsessive cult interest among certain individuals. As such, there's been more than enough amateur scholarship written on them for me to safely forgo much of an introduction or studied history (I'd strongly recommend Tim Forster's comprehensive article). In fact, if it were not for their conspicuous absence on the Rising Storm, I might think that any more ink shed on the band's records would be a waste of time.
As it stands, however, A Child's Guide To Good and Evil deserves a place on these pages. Probably the strongest and most representative of the band's recordings, Child's Guide is a surreal set of beautiful folk-rock and off-the-wall psychedelic excursions from the mind of notorious west-coast playboy Bob Markley. Don't be put off by the band's legendary weirdness, though; hell, any record that opens with as stunning a pop song as "Eighteen Is Over the Hill" should deserve a place in your collection, catholic taste or not. Multi-tracked finger-picked acoustic guitars and wide-open harmonies help drive this piece into one of the catchiest choruses this band ever put to tape. Imagine a hipper, dropped out Simon and Garfunkel and you're maybe halfway there.
After hooking you with the opener the band slowly starts to indulge more and more in their trademark psychedelics. First comes fuzz-tone bass and pedal-steel on "In the Country," which happily manages to transcend its overworked "going to the country" theme. Then Ron Morgan's crackling electric sitar turns up on the two otherwise-unrelated "Ritual" numbers as the band explores such intriguing topics as flowers, beads and babies. Morgan really does seem to have been the band's secret weapon at this point; his spidery guitar lines – such as those dancing behind the twisted black humor of Markley's "A Child of A Few Hours Is Burning To Death" – help turn these songs into psychedelic classics. In this last song we also find the Experimental Band's often-inscrutable lyrics at their most unnerving and most pointed: "we all are nothing but soft moist people, with soft moist hands folded over our buttons," Markley intones cheerfully before dropping his psychopathic chorus. The Mamas and Papas these guys were not.
So if you ever thought Sgt. Peppers Lonely Hearts Club Band was just way too tame and predictable, then it might do you good to check out the West Coast Pop Art Experimental Band. All of the records the band released during its short lifetime are worth hearing at least once, from the garage-band hodgepodge that is Volume 1 to the unmitigated Freudian strangeness that is the band's official swan song, Where's My Daddy. Markley himself may have been one disturbed cat, but the band's solid musical prowess was always more than enough to keep his nonsense on target.
Audio clip: Adobe Flash Player (version 9 or above) is required to play this audio clip. Download the latest version here. You also need to have JavaScript enabled in your browser.
"As the World Rises & Falls"

Original | 1968 | Reprise | search ]


Reissue | 2001 | Sundazed | buy ]


Spotify link | listen ]
Also Recommended