The Wild Cherries "That's Life"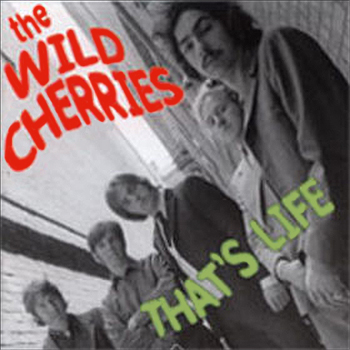 The above album is a compilation of the Wild Cherries' 4 singles (the B-sides all being respectable soul rock songs) and 16 live cuts. The live cuts are entirely covers in weak fidelity and as such, do not represent a band who was considered exciting and explosive on stage.
The Wild Cherries or also known as the Wild "Indian" Cherries were one of Australia's first genuine psychedelic groups. Aussie guitar legend Lobby Loyde came to this band in or around 1967, after doing time with yet another legendary band, the Purple Hearts. The Purple Hearts were a wild garage r'n'b group that released 6 very good singles during the mid 60's (think early Pretty Things or Sorrows). Loyde would go on to make quality proto punk albums with the Coloured Balls and achieve greater fame as a solo artist throughout the 70's. But it was the Wild Cherries who had a unique sound, a look, and that special something that only comes around every so often.
In early 1967 the Wild Cherries released their first single, Krome Plated Yabbie (Yabbie is an Australian crayfish) off the Festival label. Krome Plated Yabbie is now rightfully considered an Oz classic. This song sounds vaguely similar to the Small Faces or even the early Move, a superb, bouncy mixture of British style r'n'b and blasting Hendrix influenced guitar distortion. Loyde's playing is incendiary and foward looking while vocalist Danny Robinson turns in an extremely soulful performance. This single made a big splash throughout the Aussie underground, giving the Wild Cherries much needed notoriety. Krome Plated Yabbie was a hard single to follow up, but in late 1967 the Wild Cherries released That's Life.
In 1967, nothing on the airwaves sounded quite like That's Life.
Even today, That's Life is considered one of the most imaginative singles that ever came out of the Australian underground. It reached the top 40, and opens with a huge fuzz guitar riff which gives way to a pounding psych punk masterpiece. Throughout the song there are spacey organ runs and a great phased Loyde guitar solo.
In 1968 the Wild Cherries released another psychedelic gem, Gotta Stop Lying. This was a hard rocking, punkish original with a great paisley guitar solo, emotive vocals and trippy organ work. Later on in the year, the band released their final single, I Don't Care. This song was a total departure from their earlier, raw sound, being a ballad with strings, backup singers and a heavily phased ending. Some fans consider this single their experimental peak, though I am not one of them. Lack of commercial success effectively ended this innovative group's career in late 68/early 1969. In the early 1970's, Lobby Loyde revived the Wild Cherries name (with none of the original members) and released a solid, spacey hard rocking acoustic single that dealt with environmental concerns.
Audio clip: Adobe Flash Player (version 9 or above) is required to play this audio clip. Download the latest version here. You also need to have JavaScript enabled in your browser.
"That's Life"
[ Buy from Amazon
| Search eBay ]
Also Recommended