The Zombies "Into the Afterlife"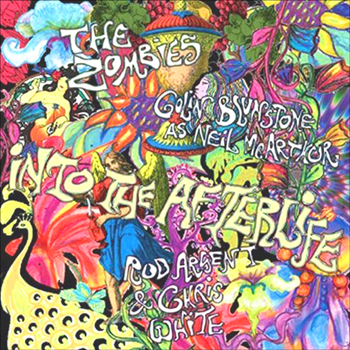 A rare and welcome treat from the Zombies' archives, and a continuation of the wonderful box set, Zombie Heaven
from the Big Beat label. This brand new release is a compilation of mostly unavailable tracks recorded by different incarnations of the Zombs during the unsure period of time after they broke up and before their next projects. This is what I live for!
The tracks have been packaged almost in album form, with the sleeve appearing to be a Ninja Turtle fan's watercolor homage to Odessey & Oracle. It's nice to pretend that this could indeed be the follow-up release to the Zombies' fantastic final offering, but what we have instead is really a collection juxtaposing three distinct post-Oracle projects: Rod Argent & Chris White (who were recording demos trying to figure out how to be Argent), Neil MacArthur (Colin Blunstone's alter ego), and The Zombies themselves.
Rod Argent & Chris White's demo material on this record was never meant for release, they were just stretching out and trying to figure out how to expand their sound. But you can hear the Zombies songwriting still lingering in there. Unfortunately, you can't hear the Zombies voice in there; Rod's lead vocal on She Loves The Way They Love Her sounds like a karaoke mishap compared to Colin's take on his brilliant One Year. Still, this material is indispensable to fans of the Zombs and Argent as a bridge between both groups.
The complete Neil MacArthur recordings on this disc are seriously awesome. It kicks off with the psyched out and groovy remake of She's Not There and a version of Buffalo Springfield's Hung Upside Down. Harry Nilsson's Without Her gets a fitting redo as well as the classic Never My Love. Don't Try To Explain and World of Glass both point to what Colin would achieve a year or so later with One Year and his subsequent solo career.
While all these recordings were going on, Time of the Season was becoming a big hit and efforts were made to eek a few more singles out and cash in on the success, known as the unreleased RIP album (available on Zombie Heaven
). An interesting mix on this record, Walking in the Sun, has been reconstructed only with Colin's vocal, original backup vocals, and an orchestral arrangement. If It Don't Work Out, the official final single from the Zombs is presented with orchestral overdubs as well and in Going To A Go Go we can hear the hard-working Zombies exercise their chops. If you love the Zombies you need to get this brilliantly satisfying rarities release.
Audio clip: Adobe Flash Player (version 9 or above) is required to play this audio clip. Download the latest version here. You also need to have JavaScript enabled in your browser.
"Walking In The Sun"
[ Into the Afterlife @ Amazon
| @ eBay ]
Also Recommended