Tommy James and the Shondells "Cellophane Symphony"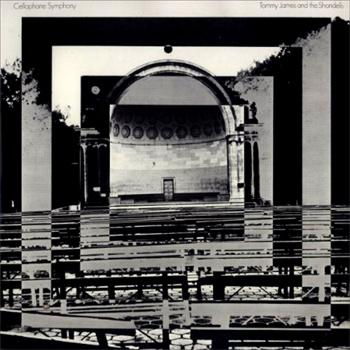 Most people are familiar with Tommy James and the Shondells through their impressive string of radio hits, but what few people realize is that, alongside said bubblegum classics, the band was busy laying down some of the weirdest rock and roll of the era. 1969's Cellophane Symphony is a beautiful case in point, and in fact doubles as an excellent gateway into the Shondells' discography.
Few rock and roll groups have ever been adventurous enough to open an album of catchy, psychedelic rock and roll with a droning, ten minute space rock instrumental, especially when you keep in mind the percentage of kids buying this record after hearing lightweight hits like "Hanky Panky" over the waves and hoping for more of the same. "Cellophane Symphony," however, is about as far from radio land as you're going to get. I'd say it is far closer in spirit to early-seventies Pink Floyd than to anything else I've heard in this band's body of work; a heavy, languorous bass riff supports a weird array of electronic noodling and slide guitar. Even if it weren't so overwhelmingly slow and repetitive, it would still be a disarming way to open a record.
And yet the most bizarre part about it is that nothing else on this album sounds remotely like the first song. From  "Making Good Time" onwards, the band is back to their trademark brand of peculiarly accessible rock and roll. Like their last album, the smash psychedelic opus Crimson and Clover, however, the band manages to take relatively trite rock and roll formulas and stretch them in unique directions that hint at the subversively experimental frame-of-mind behind all the sing-along choruses and sunshine harmonies. The spidery analog electronics even make a return on "Changes," one of the album's most memorable pieces. The only low points here for me are the short novelty numbers that close each side of the album, though I'm sure that they may hold appeal for some listeners – especially the sly music hall wink of "Papa Rolled His Own." As far as hit material goes, "Sweet Cherry Wine" actually did make it all the way to number seven on the Billboard charts, and features an insistent beat and the band's famous tremolo background vocals.
Not only has Cellophane Symphony been reissued (and remained in print, no less), but it comes right alongside the band's aforementioned Crimson and Clover. All in all it's quite a steal, and I reckon we should applaud Rhino Records for letting this rather esoteric record find a new audience.
mp3: Cellophane Symphony
mp3: I Know Who I Am

Reissue | Rhino | 2fer | buy ]


Original | 1969 | Roulette | search ]


Spotify link | listen ]
Also Recommended