Tony Joe White "The Train I'm On"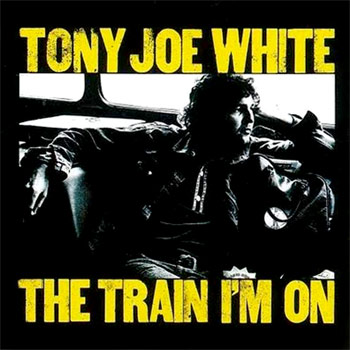 Tony Joe White's The Train I'm On is one of those records that is just too damn good to be kept a secret. Keeping real on what may be his finest moment, the LP is a sweet and languid roots rock triumph.
"I've Got A Thing About You Baby" is sparse and smooth, fitted with just enough details to keep your ears addicted to the feel—Elvis himself took this one to number 5. Like contemporaries Bobby Charles, Lonnie Mack, Dale Hawkins, and Link Wray, Tony Joe was one of those swamp-rockers digging up roots in the 70s. On Train, his second album for Warner Bros, the production is stripped though not to the bone. A full band arrangement fills up just about every track, but thankfully you can always hear the spine. Harmonica, piano, and organ assist on dynamic "The Family" and raucous percussion with hyperactive jaw harp push "Beouf River Road" where tunes like "Sidewalk Hobo" need little more than a guitar and that voice. The slightly absurd "Even Trolls Love Rock And Roll" approaches some grimy alley-funk, while "As The Crow Flies" and "300 Pounds of Hongry" are as muddy as I'll ever need.
It's true "Polk Salad Annie," TJW's huge 1969 hit, kept the paychecks coming in, but this kind of record is how Tony Joe ought to be celebrated.
Audio clip: Adobe Flash Player (version 9 or above) is required to play this audio clip. Download the latest version here. You also need to have JavaScript enabled in your browser.
"I've Got A Thing About You Baby"

CD Reissue | 2002 | Sepia Tone | at amazon ]


Vinyl | 1972 | Warner | search ebay ]


Spotify link | listen ]
Also Recommended