Townes Van Zandt "The Late Great Townes Van Zandt"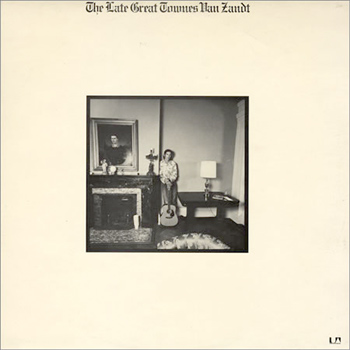 There are numerous passing references to Townes Van Zandt in these pages, but until now the nearest he's come to a dedicated post is the uReview of his 1968 freshman album For The Sake Of A Song which examines its debatably elaborate orchestration and production. But whatever the issues concerning the debut, there's no doubt that by this 1972 offering, the last from his fertile five-year period on Poppy/Tomato, he'd got his recording process exactly right. The accompaniments on this collection display a variety appropriate to the varying nature of the songs, yet the playing is so restrained and spare and the production so sympathetic that they never intrude: indeed, the fiddles, Dobros, mandolins, pianos, electric guitars, bass and drums, whilst played by a coterie of lesser-known Nashville virtuosi, are often almost ghostly in their presence. This of course suits what another reviewer called Townes's "thin maudlin voice" down to the ground and results in as atmospheric an outing as anyone in the country-rock genre had ever produced up to that time. The subsequent long line of haunting Americana featuring such luminaries as the Cowboy Junkies, Uncle Tupelo and Lambchop could be said to start here.
Beyond the two covers of fifties country standards and one Guy Clark number, Townes's own songs generally evoke the solitude and destitution of his chosen beat/hobo life and are inevitably coloured by his prodigious alcohol intake and substance abuse; indeed the album title itself, though actually about twenty-five years premature, is a wry reference to the near-death episode prior to this recording in which fellow toper Jerry Jeff Walker discovered him comatose after a cocktail of heroin, cocaine and vodka and obtained medical assistance just in time. Townes harks back to the debut album with a less limpid reworking of "Sad Cinderella", relying mainly on a gentle piano to support the more homely vocal. The peerless ballad "Pancho And Lefty", probably his best known composition and covered by enough A-list country artists to guarantee him a modest pension had he survived long enough to draw it, juxtaposes his own Kerouac-style wandering existence with those of the bandit/folk hero Pancho Villa and Lefty, a blues singer who ends up broke and busted in Cleveland; the disconcerting chord changes in the verses are soothed by gorgeous Mariachi trumpets on the choruses. "If I Needed You" is perhaps the simplest and most effecting yearning country love song since Dylan's "If Not For You" and has also been covered by the likes of Emmylou Harris. Townes makes one of his occasional offhand forays into acoustic blues on "German Mustard" accompanied only by fine slide guitar from one Rocky Hill, who presumably also provides the Dobro on the cover of Clark's almost-optimistic "Don't Let The Sunshine Fool Ya" and smooth lap steel on the respectfully authentic rendering of Hank Senior's classic "Honky Tonkin'". The penultimate "Silver Ships Of Andilar" is an untypical maritime folk ballad recalling Coleridge's Rime Of The Ancient Mariner with unexpectedly powerful orchestration and choral decoration. To my mind the only weak track on the album is the closing "Heavenly Houseboat Blues", a flaccid spiritual not quite rescued by fine fiddle and mandolin playing.
If Cecil Ingram Parsons was the tragic Crown Prince of country rock, Townes Van Zandt was its Great Pretender, forever waiting in the wings and seemingly resigned to doing so. Despite a much longer career than Gram, he remains one of country rock's better kept secrets. Gleaners of his legacy can do a lot worse than starting here, but anyone strongly into this sort of music who decides to go straight for the amazing-value Texas Troubadour box set won't be disappointed.
mp3: Pancho and Lefty
mp3: If I Needed You

Original | 1972 | Poppy | search ebay ]


Reissue | 1994 | Tomato | buy ]
Also Recommended