Twink "Think Pink"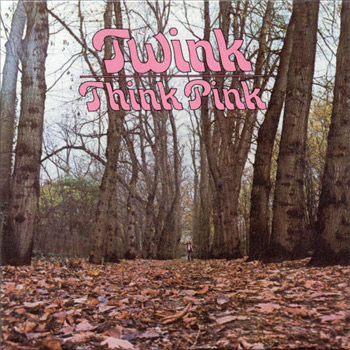 You may not recognise the name John Charles Alder, but his musical DNA is already deeply ingrained within these pages. Drummer, percussionist and all-round looner Twink, whose nickname was bestowed by his waggish friends because his mass of (naturally) curly hair suggested a 1960s home perm product, thumped the tubs for psych maestros Tomorrow, kept time for the Pretty Things around the time of SF Sorrow and later became one half of the twin-kit power train of the Pink Fairies. Somehow amongst all this collective activity Twink also found time to record his only "solo" album, recorded in July 1969 and released on Polydor the following year. Besides being engaging in its own right, Think Pink is historically notable as perhaps the last hurrah of genuine old-school UK psychedelia.
Twink was a prominent member of the unique musical scene that sprang from the Notting Hill hippie enclave of the late sixties, characterised by a strong communal music-making spirit that placed enthusiasm above virtuosity and evinced a propensity for playing free concerts at every possible opportunity. The music was inevitably pharmaceutically influenced and displayed a reluctance to let go the elements of freakbeat and psychedelia, long after the more highbrow practitioners of those genres had progressed to the gentility of prog-rock. The likes of the (Social) Deviants, the Pink Fairies and Hawkwind retained a penchant for high volume, pounding rhythms, ultra-fuzzed guitars, simple, repetitive chord structures and lyrics of the most lysergic variety, and the musicians would meld and interchange seamlessly at each others' live jams and recording sessions.
Think Pink, coming between Twink's involvements with the Pretties and the Fairies, not surprisingly features contributions from the former's John Povey, Viv Prince and Vic Unitt and the latter's Paul Rudolph and Russell Hunter, as well as John "Junior" Wood from Tomorrow, John "Honk" Lodge from Junior's Eyes and numerous other local acquaintances. Twink's chief compositional collaborator was erstwhile Tyrannosaurus Rex conga-thumper Steve Peregrine Took. This motley crew, together with their various mind-expanding substances, produced a rambling collection of wigged-out chants, whimsical nonsense rhymes, wry fuzzed-up instrumentals, cross-legged acoustic workouts and genuine psych gems that defies any homogeneous description but will bring a nostalgic tear to the eyes of any former freak-culture adherent (if you can remember being there, that is). Production was by the Deviants' mainman Mick Farren, and although production quality is pretty good it still sounds as if a hell of a party was enjoyed whilst the recordings were going down.
The album states its intent on the opener "The Coming Of The One" which simulates an acid trip more closely than anything else I've ever heard, with whacked-out wailings backed by backwards sitars and tablas. The cover of Twink's own "10,000 Words In A Cardboard Box" from his Aquarian Age days is far, far heavier than the original and features the first of many examples of downright Stratocaster/Big Muff abuse from Rudolph. "Tiptoe On The Highest Hill" has a similar feel to the Floyd's "Careful With That Axe, Eugene" but offers Mellotron and various contrasting guitar sounds, whilst the following "Fluid" features Twink's lady Silver on orgasmic moans (it's better than that makes it sound, honest). "Mexican Grass War" fades in with a sinister military snare drum march and random guitar noise and builds to a percussion tour-de-force, while the anarchic "Three Little Piggies" is as silly as it sounds and could have been Syd Barrett on even more acid. Like I said, the whole package defies easy description (though the estimable Julian Cope described it splendidly as "one trippy, hobbitty mindf*ck of the highest water") but remains relentlessly listenable to folk of a certain age and disposition.
The only CD reissue I've been able to find is clearly a bootleg on the Collector's Digitally (sic) Recordings imprint from somewhere behind the former Iron Curtain. Somehow, however, I don't think Twink and friends would be all that concerned.
Audio clip: Adobe Flash Player (version 9 or above) is required to play this audio clip. Download the latest version here. You also need to have JavaScript enabled in your browser.
"Mexican Grass War"

CD Reissue | 2001 | Akarma | buy here ]


Vinyl Reissue | 2001  | Akarma | search ebay ]


Spotify link | listen ]
Also Recommended