Tyrannosaurus Rex "Unicorn"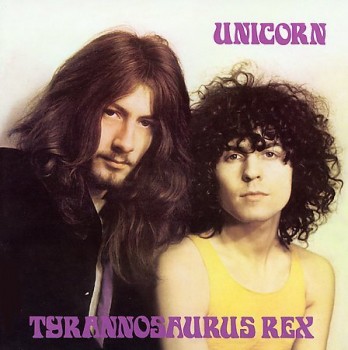 Marc Bolan was one of the best known musicians of the 1970s and he'd hardly be characterized as a cult figure if it were not for his early, tragic death. But before he hit number one and became a household name with his electric glitter glam persona, an early non-abbreviated Tyrannosaurus Rex released a string of "fantasy folk" records in the late 60s that gradually progressed toward psychedelia and perfection.
Tyrannosaurus Rex was comprised of Bolan and percussionist/multi-instrumentalist Steve Peregrin Took. Together with producer Tony Visconti (of Bowie fame) they recorded Unicorn very quickly in 1969, eventually reaching number 12 on the UK pop charts. In hindsight it seems like a strange feat given what kind of oddities this rather straightforward record jacket contained.
Bolan's songs mostly revolve around open guitar chords, pitter-pat percussion, and strong two part harmonies, with the production kept extremely minimal. But even with such a seemingly limited pallet, Unicorn shines and shifts revealing layers of hidden beauty.
On songs like "Evenings of Damask" and "Stones for Avalon" Steve Took harmonizes in an otherworldly voice, perfectly matching Marc's stray cat wail.  The percussion and various accompaniment Took provides manages to unobtrusively fill out the arrangements without ever taking anything away from Marc's tall tales.
The lyrics are mostly unintelligible and concern all things fantasy (with far too many references to Lord of the Rings), but occasionally paint touching images like "Oh the throat of winter is upon us, barren barley fields refuse to sway/Lo the frozen bluebirds in the belfry, the blue bells in their hearts are surely prey".
Perhaps it's songs like "Throat of Winter" and "Like a White Star…" but this record has a persistent autumnal/winter vibe that penetrates like a deep chill. You can almost hear the cold in Bolan's voice as he shivers through these tracks.
It's not a stretch to say that Marc's writing peaked with this album. It stands on its own with beautiful, mature melodies and is more stunning, original, and developed then anything he would subsequently produce. Bolan and Took parted ways shortly after Unicorn's release, and the rest of the T. Rex story is widely known. But we'll always have this record as a document of what Marc was truly capable of when he followed his heart.
Orignally released on Regal Zonophone/Blue Thumb, A&M has a very nice reissue of this disc that is readily available from Amazon. Original vinyl copies are highly sought after.
Audio clip: Adobe Flash Player (version 9 or above) is required to play this audio clip. Download the latest version here. You also need to have JavaScript enabled in your browser.
"Like A White Star, Tangled and Far, Tulip…"

Reissue | 2004 | Universal (expanded) | buy ]


Original | 1969 | Polydor | search ebay ]
Also Recommended