VA "The Rock Machine Turns You On"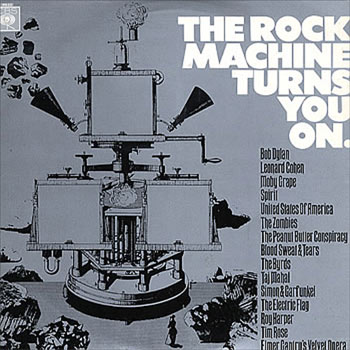 The historical importance of this unassuming album can't be overstated. It was the first rock sampler album I ever saw or heard, and almost certainly the first such ever released here in the UK. It was in fact the first time I saw the actual term "rock" used to describe the music at all; previously the successive labels "underground" and "progressive" had been coined to cover the diverging (from "pop") stream of album-based, art-for-art's-sake music that had started with Dylan and Hendrix. It was the new music's first budget release; at a time when the standard price of an album was 32/6 (about £1.63), this cost 14/6 (about 73p), just within the average teenager's weekly pocket-money allocation. And it would spawn a whole new sub-genre of record releases peculiar to, and essential to, progressive rock: the cult of the sampler.
What came over then, and still impresses today, is the sheer quality of this dip into the CBS catalogue of 1969. Each track can be seen to have been carefully cherrypicked from its parent album, no sample being so leftfield as to frighten off the listener, though nobody venturing further into any of the represented albums would have been disappointed. Yet the overall diversity of the collection is astonishing, both in terms of styles and artists, in a way befitting progressive music. Practitioners of jazz-rock, country-rock, folk-rock, blues-rock, psychedelia and simple honest weirdness are all represented, whilst the acts featured include established big-hitters (Dylan, the Byrds, Simon & Garfunkel), contemporary heroes whose days were numbered (the Zombies, Moby Grape, the Peanut Butter Conspiracy, Tim Rose), newcomers who would fall at the first hurdle (the United States Of America, the Electric Flag, Elmer Gantry's Velvet Opera) and up-and-coming artists who would go on to found dynasties (Leonard Cohen, Spirit, Blood Sweat & Tears, Roy Harper, Taj Mahal).
Two tracks above all left their mark on me. The Electric Flag's "Killing Floor" induced me to purchase their album straightaway; this powerful number remains my favourite blues-rock AND jazz-rock performance of all time, with Mike Bloomfield on cloud nine and brass work to die for, the standout track from a solid album. By contrast, despite taking a perverse delight in "I Won't Leave My Wooden Wife For You, Sugar" I somehow didn't get round to buying the United States Of America's sole album until 2008, when a book review of it rearoused my interest. This erotically engaging ditty with its homely brassband coda merely hints at the trippy weirdness of its fellow tracks – one to grow into over forty years, obviously.
A steady stream of samplers followed as prog-rock blossomed, including the best of the lot: CBS's double from 1970, Fill Your Head With Rock. Samplers were considered disposable, and originals are now quite rare and collectable (sadly, I disposed of all mine many years ago when thinning the collection). Whilst retrospectively compiled anthologies covering the whole life of a label are nowadays commonplace, original samplers with their snapshot of a moment in prog-rock's history are not. The Rock Machine Turns You On is the only sampler ever to be reissued on CD in its original form – and that sadly minus Simon & Garfunkel's "Scarborough Fair / Canticle", probably due to some momentary petulance on Paul Simon's part. It came out in 1996 and is now a rarity in its own right, never having been re-released. Judging by the clamour on Amazon, Sony could do a lot worse than reissue The Rock Machine Turns You On and Fill Your Head With Rock in their original forms, although licencing problems mean they probably won't.
Audio clip: Adobe Flash Player (version 9 or above) is required to play this audio clip. Download the latest version here. You also need to have JavaScript enabled in your browser.
The Electric Flag – Killing Floor

1968 | CBS | search ebay ]
Also Recommended