Willis Alan Ramsey (self-titled)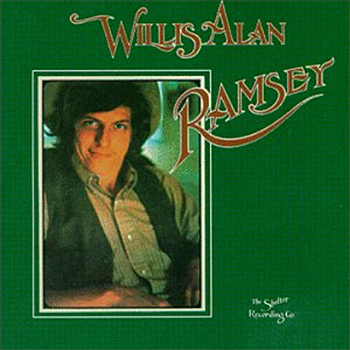 A one of a kind record from a talent so deep it kills you to learn… this is all there is. Straight out of Austin, Texas this may be the best of the whole Armadillo/outlaw scene, though Willis never wanted a part of it in the first place. Country fans and foes alike should grab this record and hold on tight.
Willis Alan Ramsey's record  merges country and soul as much as it combines chicken shack production with a touch of studio glitter. Put out by Leon Russell on his Shelter label (Russell also contributes keyboard), Ramsey was only twenty when he wrote many of these tunes, and only 22 or so when he laid down the vocals. Pretty remarkable considering the sound. It's an ecclectic mix of styles with songwriter tunes ranging from the sweet and waltzy to bluesy, gritty grooves. "Muskrat Candlelight," the album's most sugary spot, would be covered by America and forever confined to the Lite 97s as "Muskrat Love." But other tracks tear it up. All originals except for "Angel Eyes," which fits like a glove on Side 2, every song is a serious keeper.
A few tracks are ornamented with strings and orchestral accompianment, which works for the more developed numbers, but the sound gets so nicely stripped at times. On two tracks, "Satin Sheets" one of them, the only percussion is a steady kick drum with a thick cardboard sound. "Ballad of Spider John," the hypnotic storytale opener, also achieves this effect; the simplicity delights me to no end.Then this little green bit of heaven closes with a cut no one could argue, a swampy and irresistible groove: "Northeast Texas Women."
Willis Alan Ramsey made one of those perfect albums. Unfortunately for us, he was seriously jaded by the music business, and never put out another record.
Audio clip: Adobe Flash Player (version 9 or above) is required to play this audio clip. Download the latest version here. You also need to have JavaScript enabled in your browser.
"Northeast Texas Women"

CD Reissue | 1999 | Koch | buy from amazon
]


Original Vinyl | 1972 | Shelter | search ebay ]
Also Recommended